Benefits Of Google Shopping Ads For E-Commerce Business

What are Google Shopping Ads?
Google Shopping Ads can be referred to as simple product-based advertisements that are displayed over the Google Search page or the Google Shopping Page when a user searches for a specific product.
Some of the important information that Google Ads display about a specific product are Pricing, Brand, Product Image, Promotions, Reviews, Ratings, Shipping details, and so on.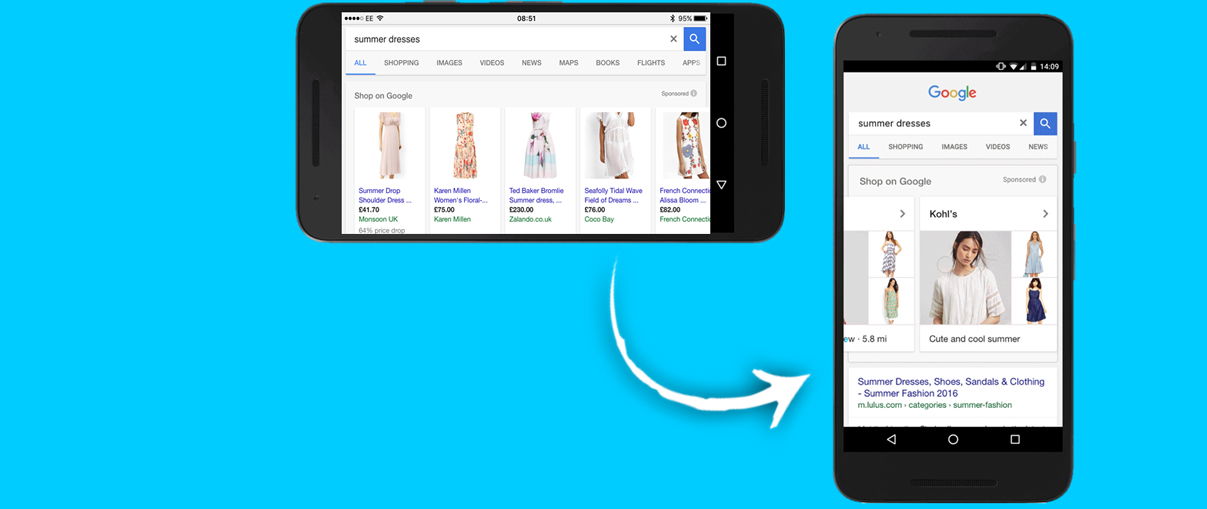 Why should you go with Google Shopping Ads?
Google Shopping Ads have been prevalent across the internet since 2010, when it was launched, and has been growing rapidly, especially in the field of e-commerce marketing. In recent years, businesses around the world, no matter how small or big have been successful in flourishing into the respective market with the help of Google Shopping Ads. This has proven to be more effective, efficient, and affordable than the outdated PPC Google Text Ads, becoming one of the top marketing channels worldwide.
For the eCommerce sector worldwide, Google Ads have transformed into the must-have part in any kind of online business. The primary reason behind this is the massive exposure across the internet which leads to large scale growth in paid traffic to the business website. Google Ads mainly targets people with common interests regarding the type of business that the Ads host.
For online businesses, marketers, and merchants, Google Shopping Ads are considered to be one of the best sources for brand awareness. This is because Google Shopping Ads are presented at two chief locations, one is Google Product Search and the other is at the top of a Google search page when a user looks for a specific product or service from Google.

How to set up Google Shopping Ads?
Even if you are new to Google Ads, getting started with it is very easy. The user interface is made in such a way that people can easily learn the applications of Google Ads quickly. The following content provides a summary to get started with Google Ads as soon as possible.
First, you have to create a Merchant Center account. To start your Google Ads campaign, a merchant center account is necessary to host necessary things like a catalog, product lists, etc. Once the merchant center account is created, upload product details, which will be used by Google to display on the Ad campaign. Regularly update and maintain your product catalog to generate more leads through Google Ads.
Once this step is completed, it is time to set up the Google Ad campaign. Follow the below steps to get started with Google Ad campaign smoothly and easily.
Open Google Ads and Log in through the registered Google account.


Tap on the '+' button on the page to create a new campaign.


Once you tap this button, you will be directed to a page where you will be asked to choose a goal for the campaign. (You can choose one from the following options, Website Traffic, Leads, App Promotion, Sales, Brand Awareness, and Product and Brand Consideration.)


For instance, if you choose your goal to be 'Sales', on the next page, select the 'Shopping' option and proceed.


Sync your merchant account and the country where the business belongs to. Then set your budget, biddings, target audience, and so on.


Save and confirm your settings and then tap on the 'Launch' option to start with Google Ads service.
Now that we have learned the process of setting up a Google Ads service, let's look at some of the benefits of using Google Shopping Ads service.
What are the Benefits of Google Shopping Ads?
Better Reach – The first thing that you notice is that Google Ads appear on the top of search results. As per the Ads requirements, products offering clear and informative details, accurate ratings and reviews, and decent visual presentation are most likely to grab the eyes of the buyer at the first instance itself.


Get Noticed – As you already know, Google is the most used search engine across the world, this increases the chances of grabbing the attention of hundreds of users towards your business. Google Product Listing services are considered to be the only ad service that promotes product images, thus adding to the visual presentation. This is what attracts buyers who are interested in the kind of product that is being advertised and is willing to click the link and visit the product page.


High-Quality Leads – People who search for a specific product on Google generally notice these ads being displayed at the top of a search result. When a relevant product ad comes up, they often click the link, explore through the product details such as pricing, shipping details, ratings, and reviews, and then go for a purchase.


Better Conversation Rates – As Google Ads help in directing the maximum number of leads towards your product page, and since people have already made up their mind on purchasing a relevant product, the chances of purchasing your product depending on their requirements are pretty high. According to a certain study, the conversation rate offered by Google Shopping Ads is 20% higher than any other Ads service.


Easy Optimisation – Google uses a high developed algorithm that uses product feed data to match results in a Google Product search. This can be optimized by adding some minute details such as keywords, product category, a short product description, product title, shipping status, business location, and many more. The more information is updated on the product feed data, the more chances it has of appearing on the search result.


Easy Management – With Google Shopping Ads, you can easily track your daily activity on your Merchant center or the product page. Follow the number of leads generated through the Ad campaigns, number of confirmed purchases, and other data through data insights and benchmarking features provided by Google.


Cost – Product Shopping Ads from Google are charged in a CPC or Cost-Per-Click format, which means that Google will charge fees only when a user clicks a link and then visits on the product page or the Merchant Center to check the local inventory. This is quite affordable yet precise and effective in its application.
There could be an abundance of benefits that Google Shopping Ads can add to your business, but some of these are considered to be specific, the benefits vary with the change in location, type of product, accessibility, customer base, stocks and so on.
Conclusion
Google Shopping can be referred to as a much-needed change from the traditional text-based online marketing and advertisements practiced a few years ago. It can also be called a digital advertisement with posters, banners, attractive visual appeals, and many more, where potential customers are targeted using visual presentations instead of plain text-based ads.
Google Ads is sometimes referred to as a digital store where people from across the world can access its features. Potential shoppers or customers can easily enter into the product page through the ads links, look for things that they want, explore various options, check for brands and relevant products, different types of items available, check ratings and reviews and finally make the purchase. In short, it is a one-click destination for everything that a customer wants.
Google Ads are being used by both large and small businesses hosting all kinds of products, including both physical and digital items. It acts as an essential tool for your marketing strategies. Google Ads not only provides traffic to your product page but also generates leads and sales effectively. Also, the setting up and running of Ad campaigns through Google Ads is pretty simple, easy, and affordable and can be easily managed within your monthly budget.
---
FAQ
There are many locations across the web, owned by Google where your shopping ads might appear. These locations can be amongst the following list.
Google Shopping Tab – Product Listing Ads and Local Inventory Ads are available for over 40 countries and the beta program is extended to many more countries. In these selected countries, a Shopping Tab is displayed whenever a user searches for a product, and if your product comes into this category or description, then it will be displayed over this tab.


Google Search – The listed product ads will be displayed at the top of a google search page and also the google images page.


Google Display Network – Google-owned apps like Gmail, Youtube, and Google Discover are included in their Display Network. Your Ad campaigns will be also be displayed over all these platforms for extended reach.


Google Partner Sites – There are various sites that partner will Google Ads to display Ad campaigns from various users. Whenever you put up an ad campaign through Google, you might expect your ads to feature on all these partner sites.
Google demands its users to meet a few requirements for creating a Shopping campaign and putting up Shopping Ads. These requirements are discussed below.
Google Account – Before getting started with the Shopping Ads, the user must create and set up accounts in the Google Merchant Center and Google Ads, then link the two for the Ads to work properly.


Product Data – Google posts ads that qualify their level of simplicity and data quality. For this, users have to send relevant information, and up to date product data to Google Merchant Center at least once in a 30 days duration. Google verifies the quality of the data that is fed into their servers and ensures that their standards are met, to provide the best shopping experience.


Google Policies – Google Shopping Ads users need to make sure that their business, product page, the type of products, and promotion methods meet the requirements of Google Policies before getting started with advertising. (Note: Google Shopping Policies differ from google Ads Policies, make sure to read these carefully.)
Google integrates with all its networks and partners to support Smart Shopping Campaigns. These types of campaigns help in expanding customer reach, getting better quality leads, easy campaign and workflow management, and maximizing the conversion rate.
According to Google policies, and the Magento catalog, Google Ads users are allowed to link and sell only 150, 000 products, because each of these products has to be unique. Any attempt to sell more than the set limit will result in your Ad being disabled or a reduction in the number of active products. To increase this limit, users can contact Google Ads through a Merchant Center Request form.
Magento allows users to create as many campaigns as they like. Before payment, the ads will show as active in the Magento servers, but ads will not run actively in the Google servers. After the payment, products will be approved by Google and the ads will start running actively.
If one or multiple products are removed or seen as out-of-stock in the Magento catalog, these items will be removed from Google catalog and ads too. And when you add new products or update attributes to the existing products in the Magento product catalog, Google will start checking these items if these match with Google configurations or not. Once these items are approved, these will be automatically updated within the Google servers and be displayed on Google Ads.
Google Ads always welcomes a well-detailed product data. The better the quality of information the user provides, the more the chances of getting your products approved. For this, there are a few things that you should properly take care of. These are, Product ID, Product Title, Description of the product, Product page or website link, Product's image file or image link, Product availability, Product category, Pricing, Shipping details, and so on.