Core Update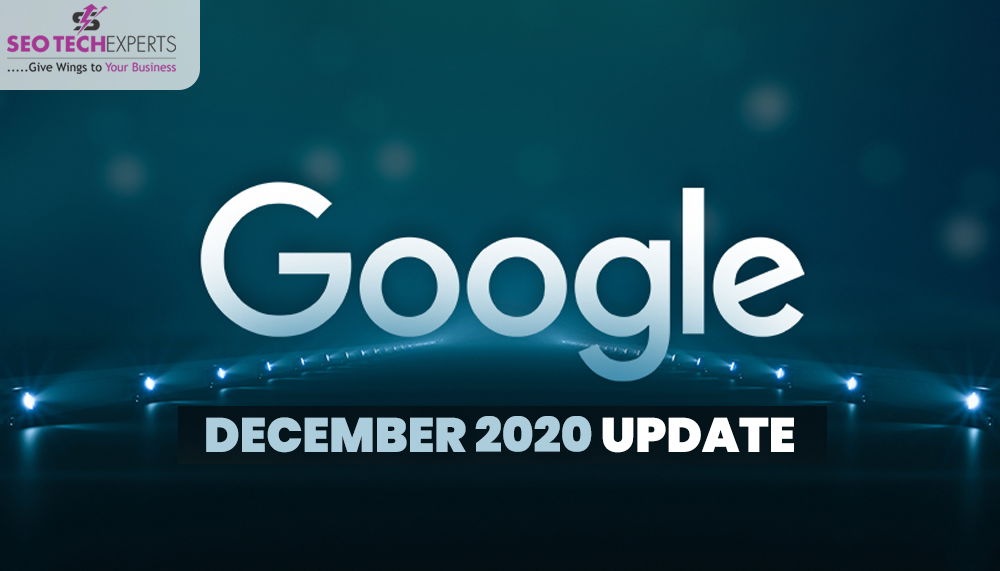 Latest Gogole Updates Confirmed By Google Webmaster Google Releasing Core Update On May 2022: Facts To Know About The Update
December 2020 brought bigger core update better from May 2020, informed by data providers. The update appeared on Dec 3 but its impact can be seen on Dec 4. The
Though the core update rolled out on the 3rd of Dec, according to the earlier data it has observed that after a day or so, it starts bringing the result, however, Google said it will take at least a week or so to roll out in a full-fledged way. After considering every parameter, by far this update has turned out to be the biggest in the last 7 months. The last core update that occurred in May 2020 was also known as one of the biggest updates till now.
There are several companies that tracking Google's search results and soon they will send the impressions about this update. But they have also felt that this is one of the biggest and significant updates so far. It is performing perfectly on every vertical.
The facts: We come to know from Google that this update is meant for the entire world and it is not limited or specific to any region, language, or any kind of a website category. It is a classic "broad core update" that Google releases every few months or so. In this case, we have observed it was the longest stretch so far to get the final broad core update, it took around seven-months, as opposed to the typical three-month time frame.
Earlier updates: The previous core update emerged in May 2020 and that was one of the biggest and broad updates that took two weeks to completely get rolled out. Before this update, there was one more core update emerged in September 2019. That update wasn't up to the expectations of some SEO's and webmasters. It has been seen that it doesn't even offer a great impact on previous updates. Google has also released an update in November but that update was completely focused on local rankings.
Update Timings: There is a concern about the timings of the update, hence here we would like to clarify that this update was released a couple of weeks before the holiday season. Google announced that it got complete after the Thanksgiving season, after Black Friday and Cyber Monday but before the holidays. However, for some businessmen, who are engaged in making lots of their sales right before the holiday, this update might be disturbing their business.
Data sources on the December 2020 core update
RankRanger: According to the RankRanger, this December 2020 core update is one of the major updates while the May 2020 update was also the big one. But "December update showed even more changes than the May update in some areas, especially in the top three results."
Here is how the December update compared to the May update: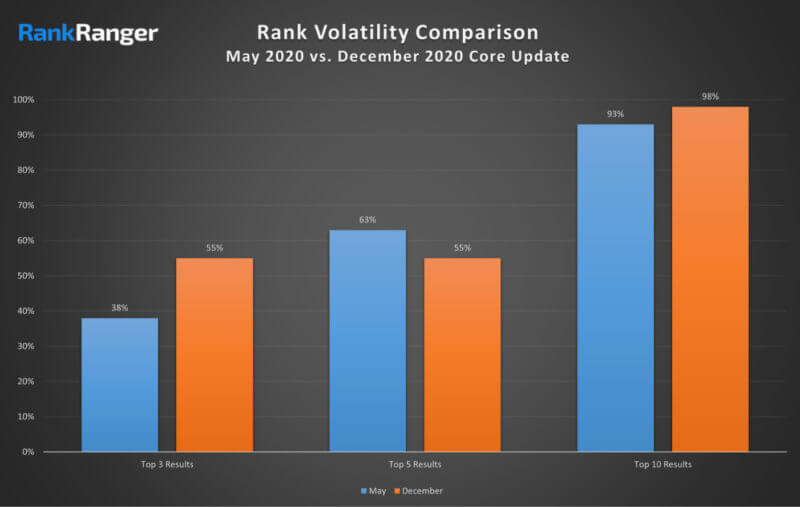 RankRanger has tracked approx twenty positions in Google and the fluctuations are more than doubled in comparison to the May update.
As per RankRanger's observation, if you look at the data across the industry. You can see the even fluctuations with a minor level of fluctuation in the top three and top five results in the travel niche.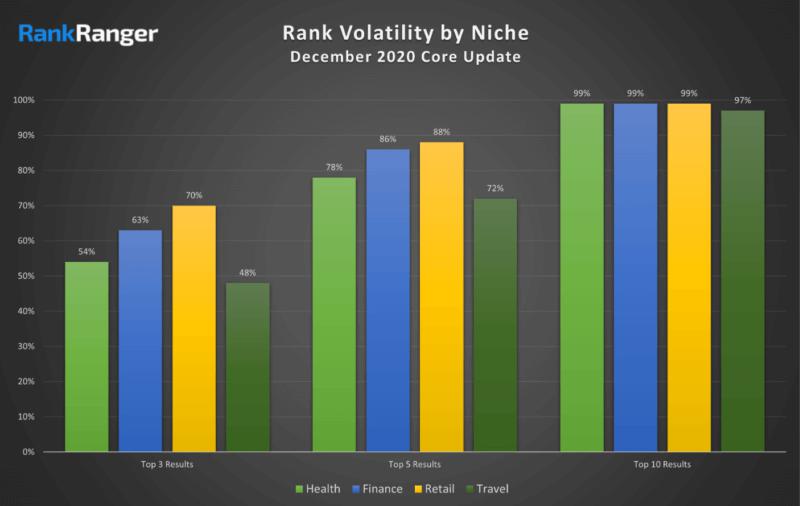 SEMRush: The team of SEMRush, Yulia Ibragimova, and Olga Andrienko has come up with great data on this particular update. According to SEMRush this update has emerged on December 4th and leaves a great response on health, finance, real estate, travel, law, and government and mobile search health, law and government, pets & animals, jobs and education, real estate over the desktop search. The SEMRush sensor tracking tool has scored 9.4 on Friday, December 4th, the May 2020 core update was also scored that by SEMRush but the January update was closer to 8.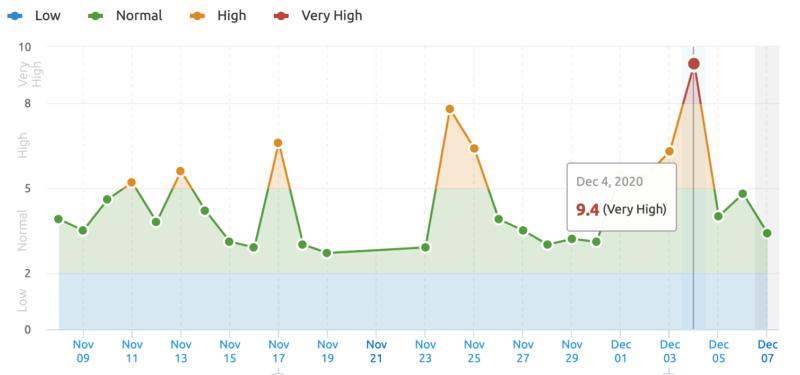 Here is the SEMRush volatility by category: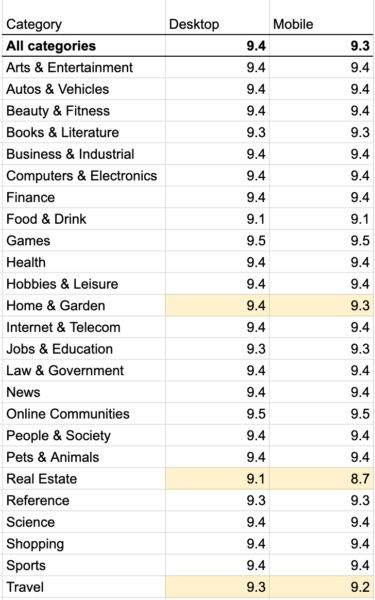 Based on the scores and performances, SEMRush also shared the winners and losers of this update. Some of the winners are linkedin.com, ebay.com, vimeo.com, loginbrain.com yahoo.com, zoominfo.com, whitepages.com, foursquare.com, and businesswire.com whereas the losers are newsbreak.com, gettyimages.com, wish.com, echovita.com, yellowpages.com, urbandictionary.com, local.com, dnb.com, and aliexpress.com.
Searchmetrics: Marcus Tober from Searchmetrics stated that "as Google announced, it is clear that the core update is still rolling out and that's the reason we can still see some changes in shifting of the rankings. Some of the industries where we can see a clear difference are – music, health, finance, news, and e-commerce. As a result, there are some winners and losers of Core update in May that have gained or lost visibility, but only a few of them. There are two brands named Spotify and Twitch, who suffered major losses from the last update but still didn't find a way to recovery. But might be that's the reason Google is coming up with an update in multiple iterations to test the results. In this case, the impact of the update is somehow less than with other updates concerning the holiday season. And might be we get to know in 1 or 2 weeks.
Searchmetrics has shared data on its web site as well, including the comparison between the decrease and increase in rankings in May 2020 to December 2020, here is the data.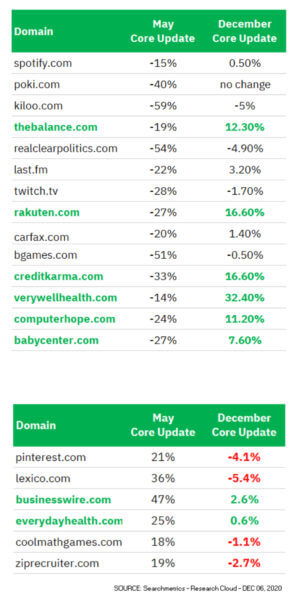 Based on the data, Searchmetrics has also published its own winners and losers. Some of the winners of the update include celebritynetworth.com, vudu.com, songmeaning.com, valuepenguin.com, verywellhealth.com, zoominfo.com, realsimple.com, creditkarma.com, cliffnotes.com, elle.com and azquotes.com, and the early losers are soundguys.com, gearbest.com, thechive.com, wsfb.com, heart-music.com, cocolate.com, medbroadcast.com, cloverlyrics.com, lyriccenter.com, and theasaurus.net.
By the research of each of these data providers, we come to know that they have tracked the update and results over different angles including different metrics, different sites, different keyword sets. And that's the reason there is no exact match.
The SEO community feedback: With the number of discussions in both the online discussion and also on social media platforms about this update it has been observed that professionals said that they are at loss in business. With approx. 40% of the Google organic traffic has gone whereas some professionals shared positive feedback on this update. There are some unique feedbacks stating that professionals have seen more than 150% traffic increases from Google.
What to do if you are hit: As Google understands the concern of professionals, therefore, it has given advice that if you are negatively impacted by a core update in the past which means there aren't exact actions to take to recover, however, the negative rankings impact may not signal anything is wrong with your pages. As a result, Google has offered a list of questions to think about if your site is hit by a core update. Google also said to find a bit of recovery between core updates but the major changes would be seen after another update.
Why we care: It becomes tough to ignore or cut off from being hit by Google core updates or algorithms, so if the data and previous experiences of the updates have shown us the core updates are broad, wide and cover a lot of overall quality issues, then it is recommended to look into all and take a wider look to find issues to improve it all.