Duckduckgo Crossing The Milestone Of 30 Million Queries Per Day Is It Enough
The privacy-focused search engine called DuckDuckGo steadily keeps growing. They posted on the social media Twitter, that they have reached a new milestone by breaking 30 million queries on an average per day.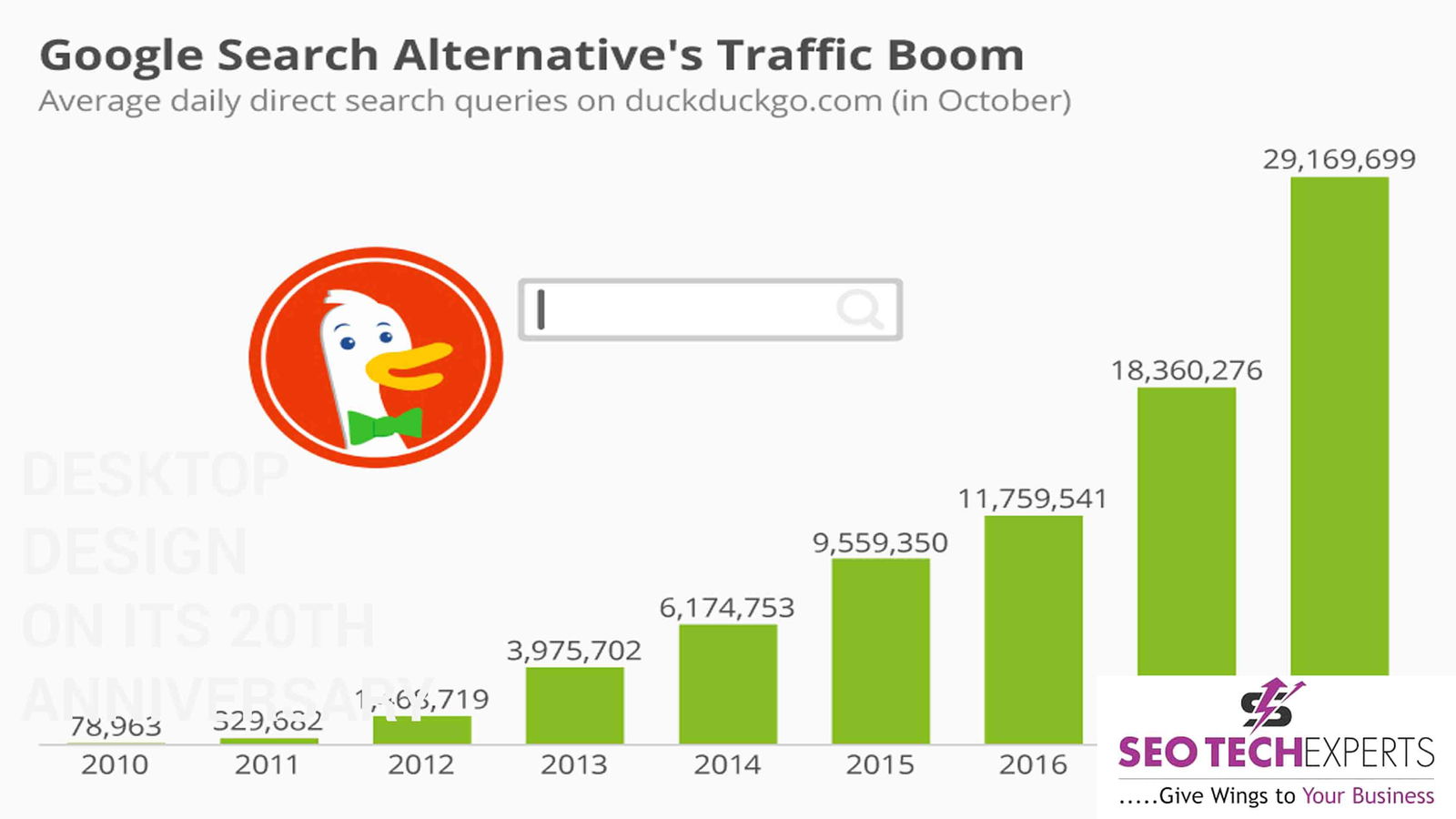 GROWTH OF AROUND 50 PERCENT
The company DuckDuckGo which is a privacy-focused search engine told that it took them seven long years to reach around 10 million searches in one day. But to get to another milestone of 20 million searches in a single day, that took another two years for them. People all around use DuckDuckGo and made about 16 million searches in one day in January, every day and everybody was predicting that number would likely double before the year's end.
Shockingly, now in less than a year later, they have crossed another million milestones of 30 million searches on an average per day.
The founder of the privacy-focused search engine, DuckDuckGo, Mr. Gabriel Weinberg told TechCrunch that they have been growing approximately by 50 percent a year at a pretty consistent pace. So at a macro level that wasn't too surprising for them as it was just the numbers which are getting bigger and bigger on a daily basis.
Weinberg also added that their searches have increased even more on that year, especially if one looks in the past two months.
WHY DOES IT MATTER
The privacy focusing on DuckDuckGo's search engine provides an alternative for users from Google, Bing and other search engines which collects and uses behavioral data for their ad targeting for on as well as of their services.
If one compares to the tens of billions of searches which Google processes per day to DuckDuckGo's volume then it barely registers but the Cambridge Analytica Scandal, talk of privacy regulation in the US and the EU's General Data Protection Regulation (GDPR) have raised public awareness on online data security concerns and this may help spur the continued growth for initiatives which are privacy-centric.
This growth of DuckDuckGo comes in the wake of series of privacy driven scandals from Facebook's Cambridge Analytica breach to Google's ever-tracking of location history which has made people very much aware of how their data has farmed and exploited by the big tech firms and companies.
As compared earlier, if one compares the estimated market share of DuckDuckGo's 0.18 percent of global searches it pales down if one sees the giant search engine Google's number which is around 77 percent. Baidu has around 14 percent and Bing is between 5-8 percent. But still, DuckDuckGo is way ahead of the once-mighty AOL which sits at a paltry 0.03 percent. The achievements of DuckDuckGo are laudable, but it seems convenient and its features are still more important than privacy to many users.
DuckDuckGo has cleared the bar of milestones twice this week before dropping just a little bit below the threshold. DuckDuckGo has experienced a quick growth in a year which was filled with privacy scandals at major tech companies like Google and Facebook.
However, even with the steady gain and the latest record and milestones of DuckDuckGo, it still serves as a reminder of how daunting task it will be to even touch Google's dominance.
As per NetMarketShare.com, DuckDuckGo still is lagging behind from a number of other search engines in traffic, apart from Google, there is Yahoo, Bing and also internet relic Ask.com, however, it does beat AOL. DuckDuckGo claims about a fifth of a percent of the total search engine markets on a good day but they still have to cross the barriers ahead. One just can't cut a slice of the pie which is thinner than that.