How to Generate Content Ideas?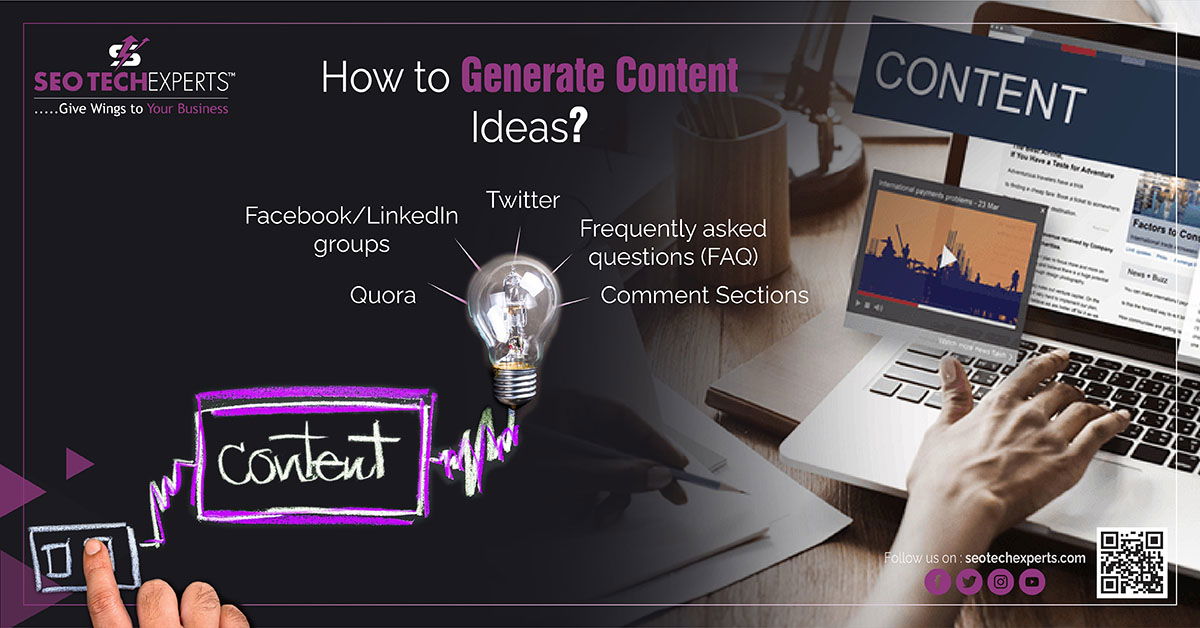 Penning down the words is already a tough job in itself even for the professionals as this work demands you to be on your toes with new idea that readers love it.
There are a number of people who are struggling to have new ideas for their blog or simply they are tired by their monotonous way of writing. Writing in a similar format not only becomes boring for a writer, but for the readers as well.
"When it comes to creating an engaging piece of content for search engine optimization (SEO) and link building, then the responsibility to be creative double's up."
Thanks to the internet there are number of places from where you can take inspiration for your next blog.
Quora

At present Quora is one of the fastest growing social media platforms, where one can look for numerous answers of the same question. Though each answers will have their individual point of view and thought but our main focus is to learn about the style of writing. Here professional can look into the new ways of writing or presenting answers in new style, right from one line answers to an in depth answers everything is available. Professionals can even gather a lot of data from this platform.

Facebook/LinkedIn groups

Facebook and LinkedIn have similar kind of platform like Quora where there is a similar type of engagement in social as well as professional community respectively. Both of these platforms can help you in fetching valuable ideas.

Twitter

The trend of tweeting is in full swing, it is a platform where everyone interacts with each other, it is a place where you can talk to your friend as well as your favorite hero. These kind of platform are a great way to learn or even practice a new way of writing your content. Though it won't teach you how to write, but it will certainly help you in understanding what type of content people love to read and interact with.

Frequently asked questions (FAQ)

It is one of the great starts where a professional can learn about how they can write a message to aware a mass of people.

Comment Sections

Social media users are highly interactive as they leave the comment for a particular product and service hence as a professional if you are looking for the content ideas you can even visit to the comment section of the website and can even learn about the style of writing and the way of communication.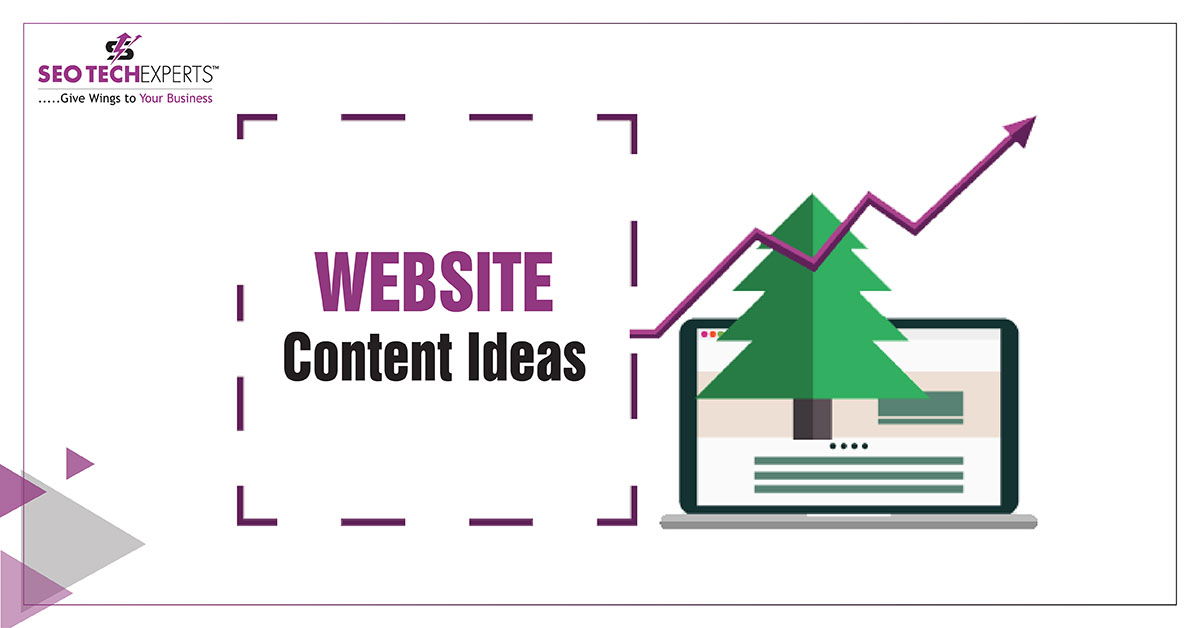 Website Content Ideas
When it comes to generating content for your website than here are few ideas with which you can never go wrong
Happy Customer Stories

Happy customers are the one who does the best marketing for you. When your client is satisfied with your services than they are even willing to go that extra length and can even help you in getting more customers. Therefore always try to put a testimonial section on your website.

Reveal About Big Project or Anything Interesting

We all love suspense and thrill and when it is done on these major platforms like websites and social media than they create more suspense and thrill. This will not only help you in increasing the website traffic but in creating higher engagement rate too.

Tutorials

There are so many people who are on a constant path of learning who keeps on looking for different kind of tutorials tips and tricks to learn, you can cater to these audiences with your content and can have more traffic at your website.

Top 10

Humans have a natural thought process of staying at top and becoming the alpha consumer. We want to know each and everything and who is at top, which is on the second position and everything in between, this mentality can give you a chance to bring more traffic to your website and even add valuable content on the website.

Meet our team

Everyone have one favorite brand regardless of the fact that whether it is a clothing brand or a health care brand about which they want to know each and everything, they want to know about their operations and who are working in that company everything from A to Z hence when you create a content like meet our team than you introduce your team with everyone, which in turn creates a connection between the brand and the users.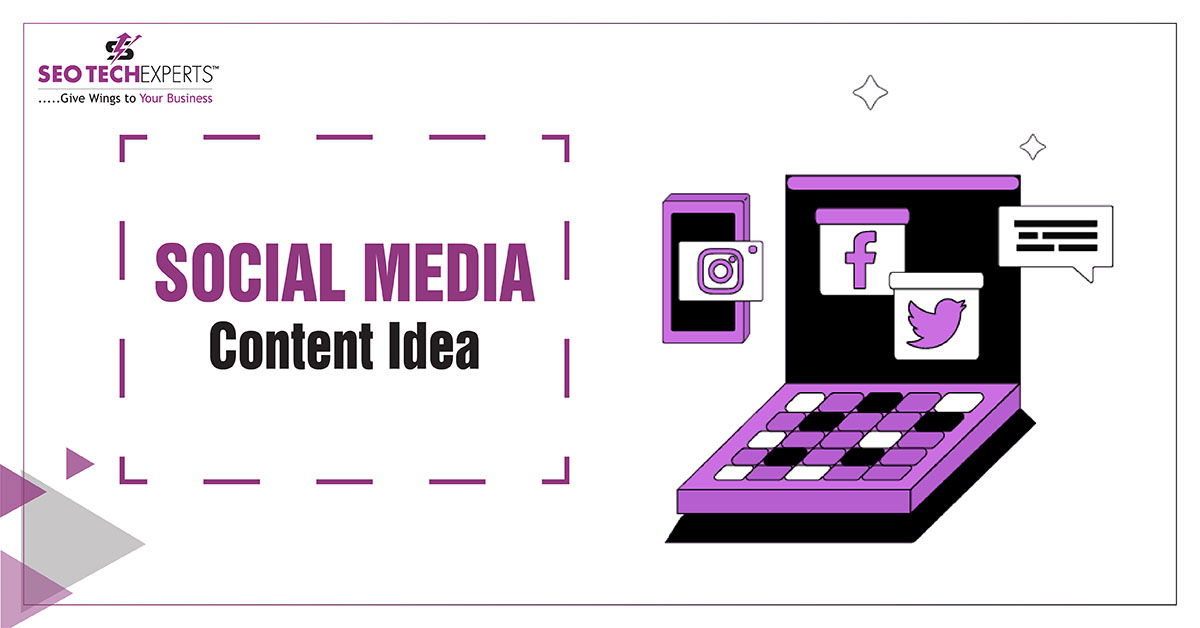 Social Media Content Idea
User generated content /feedback /testimonials

Your target audience will not only help you to build a business but they can be your optimal source of inspiration too, when you share a user generated content, or a client feedback or a testimonial you build a community which feels heard. By doing this you will not only have content for your social media platform but can also help you with building a community who has more trust and faith in your brand.

Community /employee highlights /behind the scenes

As we are now aware of the fact that when a person loves a brand or a celebrity than they want to know each and everything about them right from the fact that how they work, to who work there with each and every other possible ounce of information they can get.

Celebrate Holiday /Virtual Event

Activities like sharing about the holidays you celebrate or conducting even a small virtual event (thanks to COVID-19) can help you bring more audience to your website.

Go live

Going live once a week can help you to directly interact with your audience which can also help you in generating new and innovative ideas with your audience input only.

Content Series/ Create your Own Game

This is one of the new ways in which you can engage your audience in the most interesting way you can have a little content series like for example "let's talk about pet and bring in a new pet everyday and talk about it" or simple conduct a game like a mini quiz which can entertain your audience as well as provide them with the knowledge.
More Tips for Better SEO Practice
Once you learn how to write in a new style and how that particular style can be used for SEO purpose, then you can work on finding the difference between topic and keywords. As humans we are bound to do a lot of mistake, therefore it is important to clear the role of both topic and keywords, it will help you to perform better while working on SEO projects.
Moreover, what you have learned from other platforms will also help you to perform better while working on SEO project. So, go for it.