Top 10 Advanced Google Shopping Ad Strategies

Shopping has become an increasingly popular activity throughout the world. With the advent of the internet and the boom in the e-commerce industry, competition in the online sphere has increased manifold. In this wake, if one seeks to find success as a retailer, one needs to leverage strategies to get the most out of advertisements – the driving force behind the engagement between customers and retailers on the internet.
One should consider the information that 56% of Google's budget is utilized on shopping. That makes shopping a more popular activity than actually searching over the internet in the USA. Therefore, one should certainly consider employing the best techniques to boost one's potential and gain dividends. While it may seem like an overwhelming task to build a Google shopping campaign that yields good profits, it is not impossible. There is a milieu of methods and strategies one can adopt to see a difference and see better product performance.
However, one should start out with the basic and most fundamental ones, to avert any confusion and get a hang of leveraging different strategies. This article outlines advanced Google Shopping Ad strategies, which one can use to grow one's revenue and gain maximum exposure.
Top 10 Google Shopping Ad Strategies

1. Intentional Segment Campaigns
Analysis has shown that there's a marked difference in the performance of branded searches and non branded searches. For getting the most out of advertising, one should aim for the creation of two separate campaigns to manage both negative keywords for the branded units in order to channelize branded searchers to the other. This shall enable one to successfully bid higher for the well-performing queries.

2. Keep A Competitive Pricing
In order to tap the most profits from Google Shopping, one should strive to maintain competitive pricing. Research shows that higher competitive pricing results in the generation of a greater number of clicks and subsequent conversions. A key takeaway here is that despite a lot of similarity in products, cheaper priced ones generated a great amount of traffic.
3. An Extensive Testing of Bids is Essential
Several analyses conclude that Google shopping involves high volatility in bidding when compared with the Google search. Hence, it would be a mindful move to do pervasive testing of bids.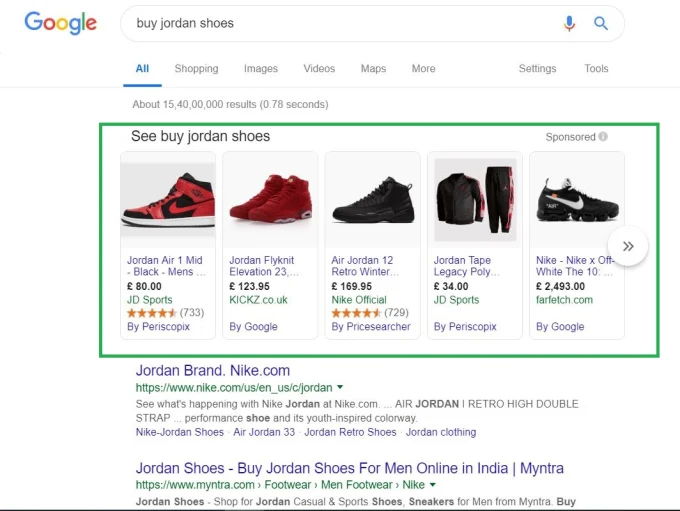 4. Adding Relevant Keywords to Product Titles
This is a no brainer and cannot be stressed on enough; product titles form the backbone of one's product feed. Being one of the most pertinent units, product titles need to be optimized. This can be achieved by inserting keywords in the title for the generation of more impressions for the same.

5. Categorise with Product ID
Each and every product comprises a separate bracket of profit margin and related costs. So as to maximise the performance, one should set varying bids for different products. For achieving the same, one should segment one's shopping feed by the individual product IDs.
6. Use Segmenting by Time
Time that is the day's hour and the day of the week has a great impact on the google shopping ads' performance. In order to get optimal results and top one's performance, one should try and change bids multiple times in a day and employ the help of a bidding script. This can help significantly by increasing bids during high-performance hours and reduce the same during poor performance hours.
7. Employ the Usage of Remarketing lists to Campaigns
Just like any store builds a rapport with customers in order to turn them into routine ones, and eventually loyal clients; one should aim to convert the people who have once visited their site into customers. Here, it would be a smart move to employ remarketing lists to create a surge in bids and result in the display of one's Google Shopping Ads to previous users frequently.
8. Customer Matching
Everyone has access to purchase data, but seldom is it utilized by anyone to tap its full potential. Customer match aids in finding the greatest value customers with the help of customer data and actually putting it to work. One way to utilize this would be by uploading the details of a previous holiday's shoppers and make an ad campaign which is focused to attract repeat purchasers. Hence, this is a helpful tool.
9. Focus on Product Variants
The worst phrase any customer could possibly come across during online shopping is 'out of stock'. Similar is the case with Google Shopping Campaigns. In case a particular category of products in one's campaign has been doing well, however, gradually sees a decline, it is probably due to the diminished stock of popular variants. Further, as a way to cope up with such a situation, one might decrease the bid, which can lead to an even worse performance by the product group. The only solution for this is to segment the best selling products by product ID. This can be paired with a product information management tool for a good return on investment.
10. Make good use of Showcase Shopping Ads
More often than not, showcase stopping ads are displayed as a result of generic searches. Frequently, advertisers are of the opinion that specific search queries trigger google shopping ads. However, in many different situations wherein the searcher isn't specific in his search, then Google responds with a showcase shopping ad. This encourages the user to explore more options than being restricted to a single result.
Bottom Line
Google shopping can seem like a tedious place to work with, and gaining success in it might sound like a herculean task. However, one can certainly adopt targeted and foolproof strategies in order to tap the highest potential to gain the most ROI. This can be done by segmentation, pricing, setting out multiple campaigns and efficient use of keywords.
If one wants more impressions for any given product, one needs to balance out the usage of keywords for effective implementation and bidding. This shall ascertain good dividends as conversion rates in Google shopping change hourly – the bids should reflect the same. Further, it has been repeatedly seen that people who utilize old data to set bids, see an increased conversion volume. Additionally, employing strategies such as RLSA further increase CTR and rates for users who have previously visited one's site.
---
FAQ
One should try to make their ad campaign granular. This is to prevent misrepresentation. This is because, in any situation, there might be an underwhelming performance of one product, which can ruin one's overall statistics.
Query Sculpting refers to the application of the correct bids to particular queries by the usage of multiple campaigns, employing negative keywords as well as setting campaign priorities.
A lot of research and analysis has shown that a recommendation for or against query sculpting, as a general statement cannot be made. This is because this strategy is based on several factors; some people have had great success with it. The best way to know would be to consult an expert.
Setting a campaign priority to the tune of low, medium or high is an extremely essential step. This is something to consider if one has one product in different campaigns. By setting the priority, one can choose the campaign which should go forth in the auction. One should be mindful of the fact that the highest priority campaign will bid, regardless of the bids in other campaigns.
Such keywords allow one to gain more exposure in front of the specific audience, by terminating certain search terms from one's campaign and hence, display relevant campaigns to the customers.