Google Tests Show Clipboard Icons For Recipes Queries No Features Discussed Yet
Experimenting with a new recipe of clipboard icon feature, Google is still unsure about what the icon actually does and how it works right now.
Google is testing for the showing of little clipboard icons which one can see next to suggestions for recipe-related searches for users.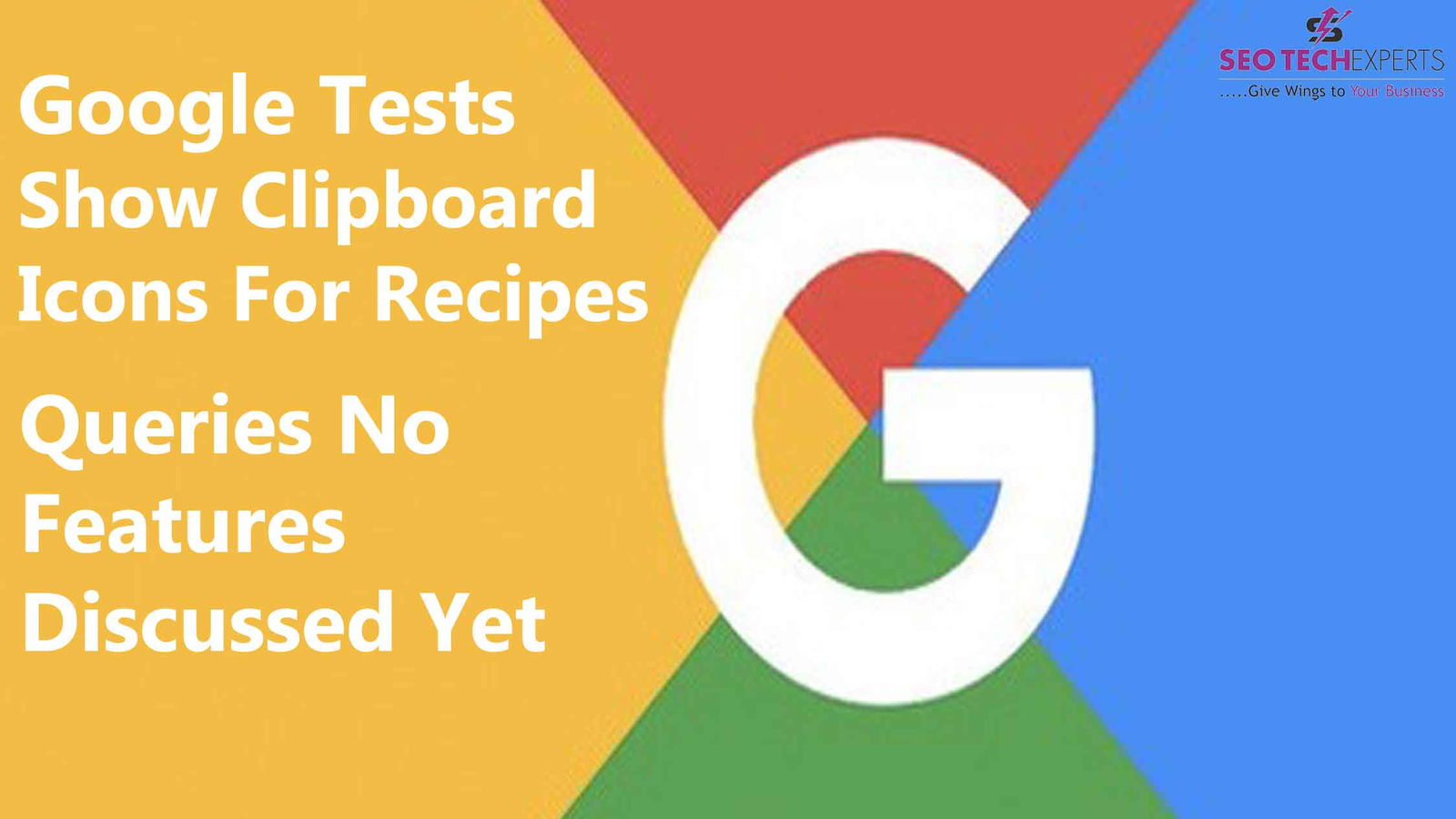 WHAT ARE SEARCH SUGGESTIONS?
When one begins to type their query in Google, and Google shows the suggestions of keyword phrases which one might be looking for. These suggestions are called search suggestions. Based on other user's search activities, Google predicts and then displays search queries.
One can see in this test that there are little clipboard icons on the right side of the search suggestions. They had no further comment except for agreeing that they were doing some tests regarding the little clipboard icons next to the search suggestions. When one is typing for a common query then Google's autocompleting features provides search suggestions which helps one to save their time of typing. According to Google, the determination of the search suggestions are done algorithmically but sometimes these search suggestions are so ridiculous that one might seem like these are handpicked by some employee of Google who has a bizarre sense of humor. These autocomplete suggestions saves an hour or two over a lifetime of Google's searches and reserves one's fingerprints for a bit longer than expected. These search suggestion have a couple of uses as well. Some of them are as follows;
Using search suggestion features for research of keywords
Using these search suggestion features for reputation management
Using these so-called search suggestions for amusement and fun
WHAT IS A CLIPBOARD ICON?
A clipboard is a storage area which is temporary, for the data that the user wants to copy from one place to another and an icon is just the picture of the clipboard. The icon has a rectangular shape.
WHAT DOES THIS FEATURE OF "CLIPBOARD ICON FOR RECIPE QUERIES" DO EXACTLY?
Google and users were unclear about what was the purpose, what the clipboard icon does or symbolizes. There is one speculation regarding this issue that it might be a signal of a new feature which lets one save the recipe which is related to the suggestion to a special recipe section.
WHAT SHOULD ONE DO ABOUT THIS "CLIPBOARD ICON"?
Well at this point of time nothing can be done. But for webmasters ranking for those recipes would be important if Google releases a feature which lets one search for a clip for recipes. Google has a mark-up for the recipe when one searches, so one can suspect that the mark-up will be expanded to support any sort of new features. Google, back in the year 2016 launched trending icons in the autocomplete results also.
Nobody knows the reasons behind those clipboard icons. One might think that by clicking them it will add new recipe ingredients to one's shopping list, or it can mail them to one's house and send a chef with the food prepared. It is always good to think positive.
As already reported, Google is testing a notepad icon or clipboard icon in the search suggestion or search autocomplete drop-down suggestions. One can be sure that it is different from the trending icons shown in the dropdown from before, but nobody has a clue of what it exactly does and Google also wouldn't budge. One can notice that there are clipboard or notepad icons, but one can only speculate about it. All Google has to say is that these are one of the many tests they are conducting and not commenting on the exact feature of the same.