Online Reputation Management an Emerging Concept For Start Up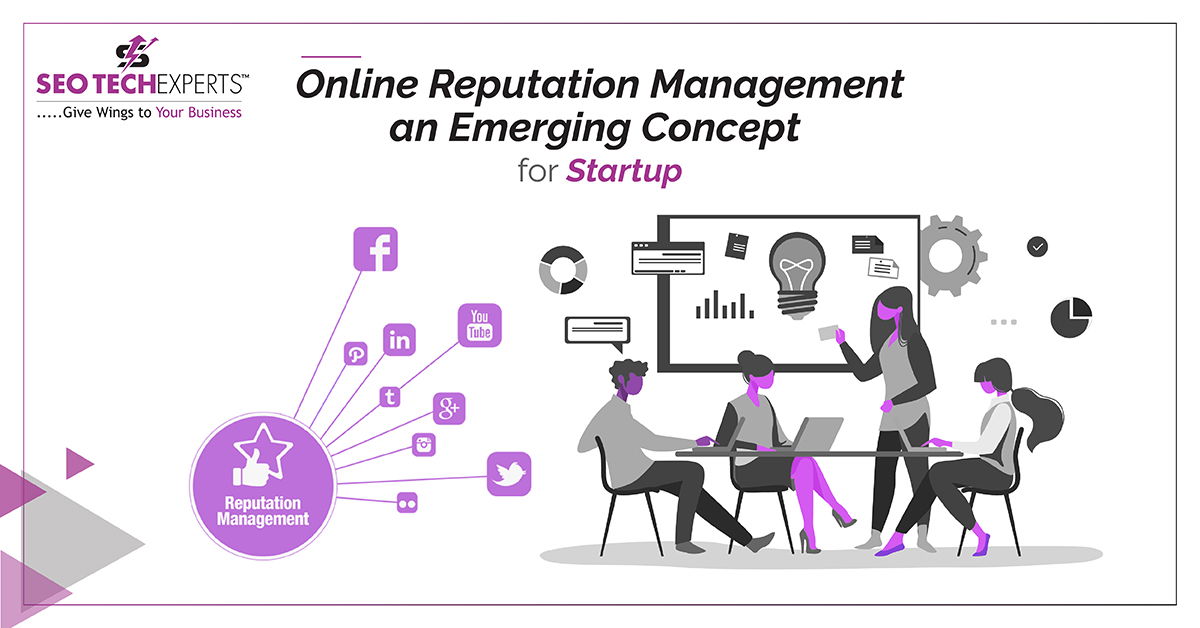 What is Online Reputation Management?
Reputation management is a process in which the professionals work on diverse activities so that potential customers can see your business online and relate to it. Online reputation management not only enhances the brand name among the masses, but it also helps you in generating more traffic, leads and website referrals to the businessmen. It enables the professional to use the social media platform and promote the brand by using diverse business images.
The online reputation management makes professional capable of having a control over what is happening to his reputation and how others are perceiving it, this is also really helpful for a brand to promote positive content that helps you look great online.
Why Online Reputation Management is Important for Business
People are looking you up online & making decisions about you based on what they find
Anyone can say anything about you online without getting in trouble, whether it's true or not
Everything we do is now recorded online forever, which means we need more tools to make sure this doesn't harm us
Having good content online helps you, but most people don't know how to do it
It has been observed that around 90% of the time customers change their decision after seeing a bad review even if they are interested in the product, therefore negative reviews or feedback can really ruin the brand's status over the web. It is a necessity to have "Online Reputation Monitoring" to proactively build the positive reputation in such a way that people don't even bother about the feedback or bad reviews and they trust your brand.
What does online reputation management typically involve?
Installing online reputation management software so that the positive feedback of your website gets automatically posted on the popular websites which can bring you more potential customers.


Addition of the schema for review of your website.


Asking the customers to put in their valuable feedback so that if they have any kind of issue with your services than it can be rectified then and there.


Addressing both positive and negative reviews to make sure that the customers feel heard.


Promotion of positive reviews through multiple channels which can be paid too for example social media post, website post etc.
How to Build Online Reputation for Start Up
Start early:If you keep on waiting for the right time to start than you will keep on waiting, right time for doing anything is when you are doing it. Starting early will give you an edge over others and can help you building your reputation from the scratch


Website:Having a website for your business in today's digital world is very important as this is the place where a person goes to for information of your business, then get yourself positively ranked as a bad rank can adversely affect your credibility


Social Media:Social media has become as a second type of search engine where people look for information regarding your brand/ product or services therefore it is mandatory to cultivate a positive image around it.


Negative feedback can bend your brand:As a positive feedback can upscale your business similarly a negative one can tarnish your brand's image which you definitely don't want in your starting years.
Benefits of Online Reputation Management for your Business
Builds a brand image:We can all agree to the fact that creating appositive image of a brand takes time but it only take few seconds to be blown and get dusted then at that time instead of just grieving you won't be able to do anything therefore it is important to get your brands ORM taken care of.


Enhances Credibility:Credibility means the act of being trusted and when a company has a solid online reputation will enhance it. ORM is not done to maintain positive reviews but it includes addressing negative one as well.


Generates Revenue:A business won't be able to survive until and unless user start trusting it and start purchasing from it because the ultimate aim of a business is to build revenue, when you have a positive brand image then the customers will come back to you again and again.


High Returns:When users find a positive review about your website or your product/ services then they start trusting your brand which is a very important aspect in the buying behavior of a person.


Attracts:It not only attracts new customers but even helps you in attracting new employees, having a professional and experienced staff is like an asset to your business.