Social Media- A Public Space to Enhance Business performance.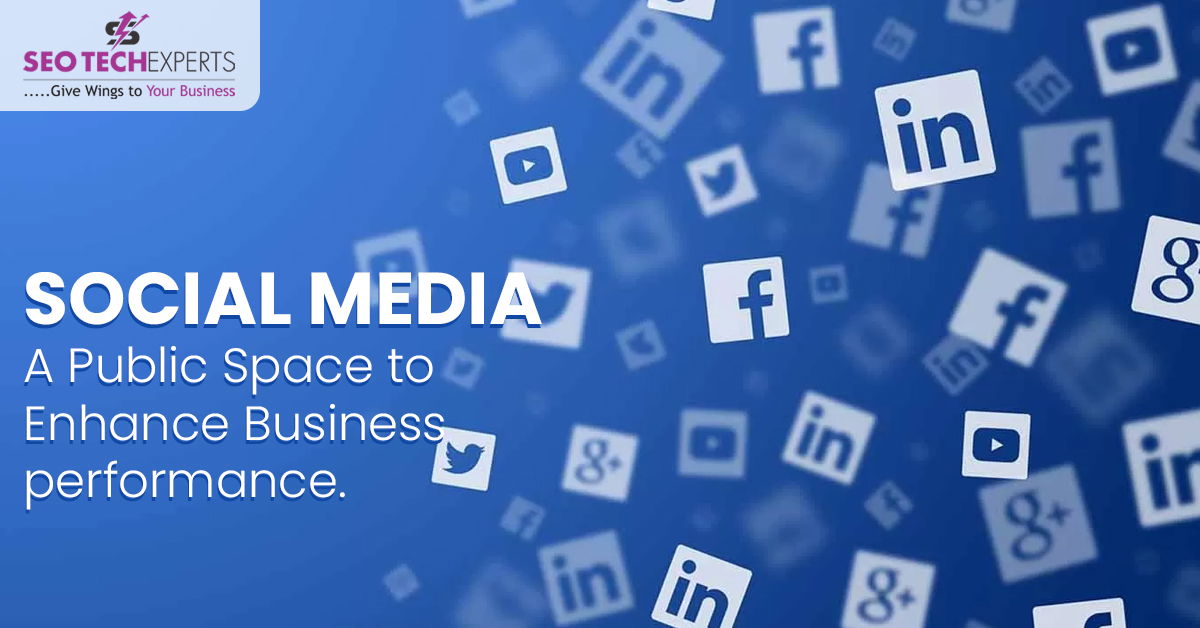 Social media isn't just a place for networking for individuals, but also businesses. No other media can provide a business the opportunity to network, identify, approach, contact, and communicate with a customer the way social media does. This is why Social media marketing is a flourishing field today. It has enhanced and improved the traditional methods of marketing as per the requirements of this new and growing social media marketing trends.
What is social media marketing-

Social media marketing refers to marketing that uses social networking platforms to attract its audience, build its brands, and increase its sales. The most famous social media platforms today are Facebook, Instagram, Twitter, LinkedIn, Pinterest, YouTube, WordPress, and Snapchat.
Why should a business use social media?

In a time where people of almost all ages spend a considerable amount of their time on social media. What better platform could a business get other than this? The advantages of using social media for marketing are-
Wider coverage-

One advertisement or post, on a platform like YouTube or Facebook, can be seen by anybody around the globe. Social Media Marketing allows a business to reach wider audiences.

Cheaper costs of marketing–

Marketing on social media is way cheaper than any other method of marketing.

Communication and interaction with the customers-

Marketing on social networking platforms provides businesses with an opportunity for two-way communication with its audiences.

The quicker spread of information-

Social media marketing, if done right can spread a message like a wildfire. It isn't very uncommon to see a brand or its advertisement going viral within hours.

Increased brand awareness-

Businesses can build and increase their better brand awareness tremendously with the help of social media marketing.

Easy evaluation of performance-

The number of likes, shares, interactions, or comments is clear indications of the success or failure of a post or an ad. This helps businesses in evaluating their performances and impact.
Why should a business hire a professional agency for social media marketing?

Easy access to social media marketing has led to cut-throat competition between companies. So, in such a situation, a business shouldn't try to get into Social Media Marketing on itself and instead hire a professional agency to tap the full potential of social media marketing.
Benefits of hiring a professional agency for social media marketing-
Better content-

A professional agency is well acquainted with the type and style of marketing that should be used in Social Media Marketing.

A better understanding of the trends-

A professional agency is well-aware of the trending topics, hashtags, and relevant issues on social media today. Hence, they can use these to enhance their marketing.

Extensive research-

A good professional agency is often well-researched about the statistics, results, audiences, and other analytic knowledge. This gives them an idea about which platform is used by people of which age-groups and which platform might prove to be the best for a certain business.

Technical knowledge-

Besides the creativity and content, two essential aspects are essential for any content posted. These are Search Engine Optimization (SEO) and Search Engine Marketing (SEO). professional agencies know and understand how these technical factors are used and can yield better results. Be it an ad, or your website or your blog, good SEO and SEM techniques are necessary for better visibility, ranking, and relevance.

Handling and preventing any Possibility of backfire-

Just how fast a creative ad could go viral, similarly an ill-phrased controversial, sensitive, or politically incorrect ad could also invite the wrath of the public. To avoid and tackle such situations it is necessary to have a professional team for your support.
How social media works-
Find your Target audience-

Social media marketing starts by finding the correct audience for you to target.

Choose the correct platforms-

Depending upon the target audience and the type of business you have; you can choose the platform you wish to operate on. This could be popular social networking sites or a website or a blog.

Engage your audience-

Post relevant and interesting content to keep your audience engaged with you. Post regular, timely, and unique content so that your audience doesn't get bored.

Interact with your audience-

The next step is to establish an interactive relationship with your clients to win over them and understand their needs better. Comments, feedback, likes, dislikes are all a part of the interaction.

Build your brand image-

Your blogs and ads aimed at helping you to build your desired image for your business.

Grow your audience-

In the highly competitive environment of the online world, growing your audience can be a challenging task. However, with a good marketing strategy and the correct technical assistance, you can surely make your place and attract and grow your audience.
To conclude, correct Social Media Marketing can bring tremendous benefits to any business. The time, effort, and money put into this will surely yield worthwhile results.