Digital Marketing Trends You Can't Ignore In 2021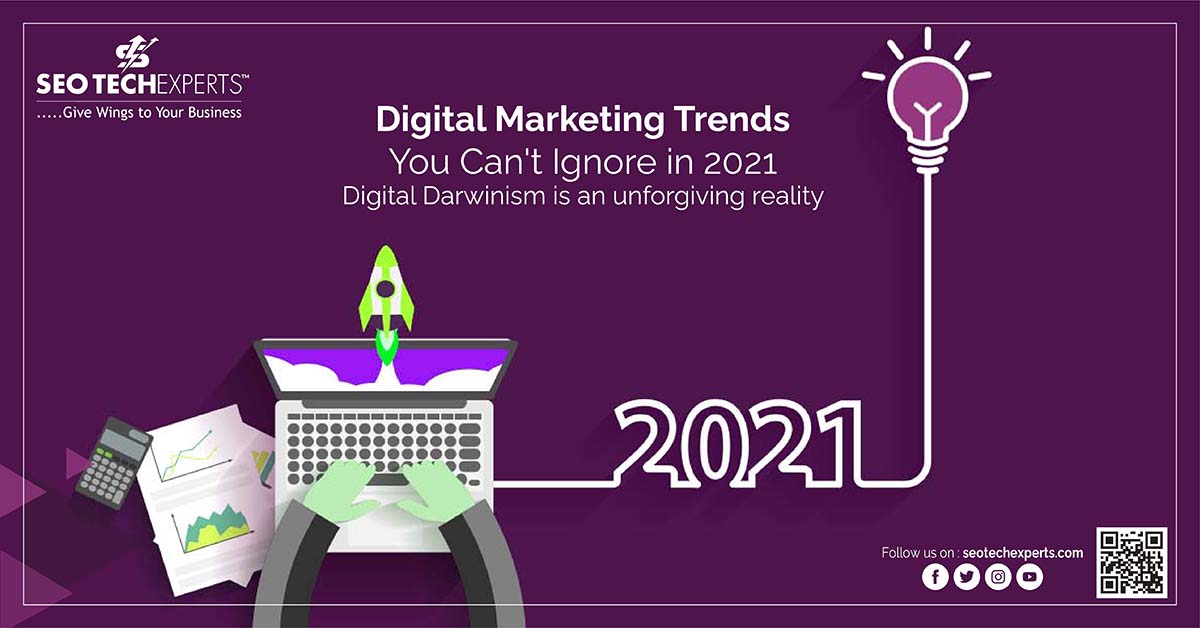 It doesn't matter what industry you are in, or what products/ services you offer the trends of digital marketing cannot be and should not be ignored. The digital landscape is evolving at hard to match up speed.
Digital Darwinism is an unforgiving reality. If you don't adapt, you'll be left far behind from your competitor.
Here are the following trends which can you can't ignore in 2021
1. Artificial Intelligence
AI is sure to become the heart of the booming Digital Marketing world and can take on many jobs. AI can help you analyze the consumer behavior; search patterns, and can even use data according to social media, blog posts and help business to understand how customers find their products and services.
2. Chat Bots
Chat bots will be an important part of the digital marketing world even in the coming year 2021. It is an instant chat system in real-time, day or night, with the visitors on your site.
3. Personalization
If you want to stay on top of the game in coming years than you need to add a personal touch in your marketing strategy which means personalized content, products, emails and more.
4. Content Marketing
Good content always matters and is going to keep you on top always but now there is a little twist in this as more focus of content is now emphasized upon the context and the target audience of the reader.
5. Video Marketing
Video content is no longer an option but the need of the era. There are proven stats which shows that video engages more people on your website than in comparison to the picture format content.
6. Visual Marketing
With the hike in AI technologies there can also be seen a sudden hike in the visual marketing industry, the best use of this technology is it helps you find things faster, for example you like an item and you want to know more about it than you can simply scan it and with the help of visual search you will get all the possible information you need about that product.
7. Omni Channel Marketing
It is the practice of marketing across the multiple platforms, namely email, apps, social media, blog etc. When you deliver a seamless, consistent voice and cohesive brand message across all channels, you can generate much positive results and can even become more trusted as a brand by consumers.
8. Branding
We live in an era where consumers have ample of choice, doesn't matter what niche you're in – The reason branding is becoming important is because of Google's E.A.T, what Google wants to do is to more than rank good content but they are catering to the user experience by demanding the most accurate, up-to-date, well-researched created by true experts in the field.
9. IoT
The Internet of things is the network of physical objects (things) which are embedded with software, sensors and other technologies for the purpose of connecting and exchanging data with other devices and systems over the Internet.
10. Social Messaging Apps
Gone are the days when the social messaging apps were used just to send a text to your friend, popularity of these social messaging apps are increasing day by day as people are spending their more and more time in messaging each other, hence you can use it to your advantage to market your company's products/services. In addition to this people also expect businesses to have a presence on messaging apps because of the ease of communication.
Things are moving at a very fast pace in digital marketing world. This is the time for the business to make a view, as tech-savvy consumers of today's world want brands to connect with them in an exciting way that make the customer journey easier and more enjoyable. In 2021, AI technology, video, voice search, and interactive content will be among the most prominent trends.
It's time for you to dive in. Which of these digital marketing trends will you try first?
If you are looking for a company providing services like SEO and Internet marketing, then you must consult SEO Tech Experts, which is located in Gurugram. It is considered to be one of the most reliable & trustworthy companies in Delhi-NCR that delivers extraordinary services to all its clients and that too in stipulated time.