Why Google Cache Is Lying With A Poker Face And What To Do About It If Anything
Google cache has the snapshots of raw HTML file which was received from one's server by the Google-bot and then that HTML which was captured by Google is rendered by one's browser. The idea is quite simple which makes Google store cached pages as it lets users browse a page when the page is in the event of a temporary timeout or simply down.
One can check the cache in search results by clicking the arrow next to the URL in the search results. One can also type the address directly in their browser itself.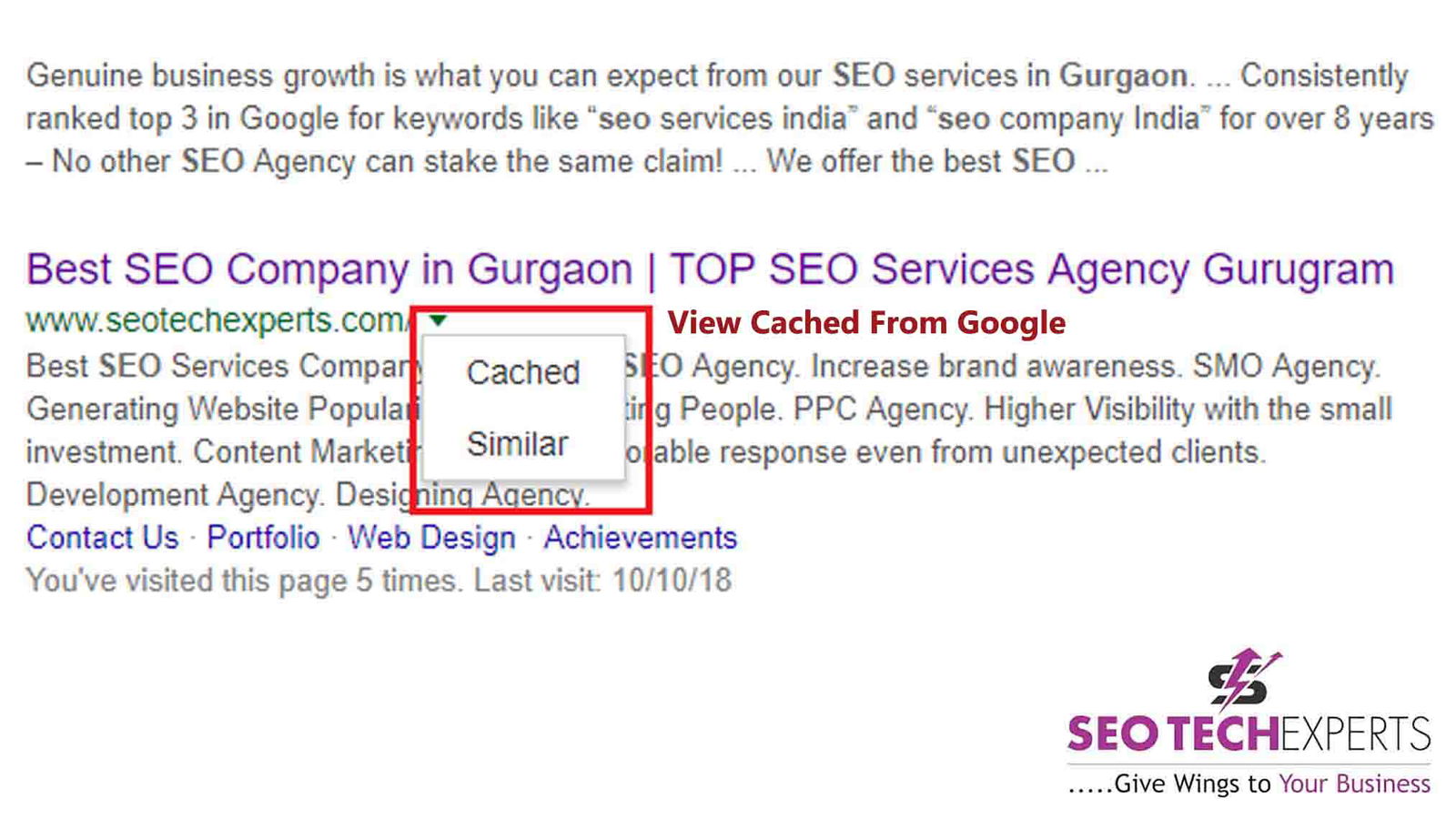 SLICING AND DICING GOOGLE CACHE
The few elements shown in the cache view are;
Requested URL
Dates of the pages when they were indexed or re-indexed by Google
Types of view- full, text-only and view source
WHY ONE SHOULDN'T RELY ON GOOGLE CACHE
Google cache doesn't show how Google sees one's website. For rendering purposes, Google uses web rendering service which is based on Chrome 41, a three-year-old browser which doesn't even support modern features which are needed for proper rendering. By simply comparing the supported and unsupported features one can see the huge gap between these versions.
Another reason why one shouldn't rely on Google cache while auditing the website is the freshness of content. While re-indexing the page, Google doesn't always create a new snapshot. Even though the content may have changed twice since then, but it may happen that as they use an older version.
Google gives one hint on how one should interpret the issues discovered in Google cache, but it doesn't provide one the detailed info on how Google cache works.
COMMON ISSUES SEEN IN GOOGLE CACHE
The anomalies found in the cache are harmless, but one shouldn't ignore that. Some of the issues are;
1. THE PAGE NOT RENDERING PROPERLY
A possible reason could be a resource like CSS might have changed. Some elements on the page might not be rendered properly, some images might also be missing, and the fonts as well differ from what one sees on their website. The reason for this to happen is because the recent rendering is based on the cached version of the page which may also refer to resources which may no longer exist.
2. 404 ERROR PAGE IN THE GOOGLE CACHE
The reason can be that a website was switched to mobile indexing. Since there were many websites which displayed 404 error pages in the cache due to the rolling out of mobile-first indexing by Google, and this created a lot of panics. As Google does not provide details it is hard to explain why the issue occurs.
3. CACHE DISPLAYING DIFFERENT SUBPAGE
Internal duplication is the reason behind it. Google may decide to fold the two pages together if it feels that they are too similar to keep them separate in the index. If Google cannot differentiate one from the other, then it may keep only one version and this seems to be its method for dealing with duplicate pages.
4. GOOGLE CACHE DISPLAYING TOTALLY DIFFERENT DOMAIN
Reason for this can be external duplication and incorrect canonicalization. There are some things which Google does which confuses many people. Those are;
Google conflates one site with another site
Incorrect rel=canonical tag
Same contents of the international sites
5. WEBSITE WASN'T SWITCHED TO THE MOBILE BUT STILL 404 ERROR PAGE IN GOOGLE CACHE
The only reason can be is that the page wasn't cached. Google does not store a cached view for all the pages it crawls and indexed to. They have enormous resources but aren't unlimited, so they sometimes forego some.