15 Steps To Improve Your Ecommerce Marketing Strategies In 2020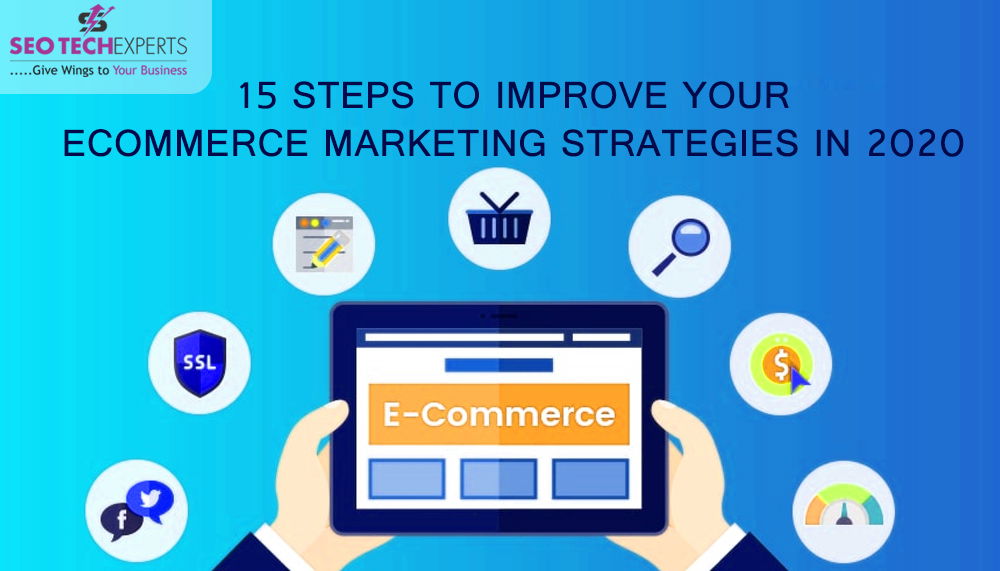 Probably everyone on the Internet will tell you that a proper eCommerce marketing strategy consists of Search Engine Optimization, social media marketing, email marketing, and PPC marketing techniques. But how do you implement them the right way to make the most out of your marketing campaigns? Here we will equip you with the ways to ace these marketing strategies with actionable steps. Knowing what to do is one thing and knowing how to do it is altogether another thing and also the more critical one. Read on to learn how you can improve your eCommerce marketing strategies in 15 steps.

1. Improve Your Web Design
In the words of Paul Rand, "Design is the silent ambassador of your brand." It should be such that it should captivate the attention of a visitor to your eCommerce store. While the templates provided by eCommerce websites can work in a rare few cases, you should get the design done by a professional.
To engage the user, use images that spread across the full width of the screen. Also, the text should be minimal. Say the most in the least. This is the general rule for everything related to design: reduce the clutter to make it better.

2. Use fresh content
You would have heard a hundred times that SEO is a great eCommerce marketing strategy but would have wondered about the ways that make the SEO work. Well, now that you're at the right place, we disclose to you the mitochondria of SEO – fresh content. Be thoughtful of your prospective consumers and do not feed them up with information that was in vogue 10 years ago. Therefore, do two things. First, keep posting new content. Second, update the old ones with the latest information and trends.

3. Game up SEO
You get it right. SEO can never be talked about enough. Here are further steps you should take to rank up your pages on SERPs. Provide the users with a great experience on your website, i.e. get professionals to work on UX. Another good marketing strategy for SEO is to have a greater number of webpages. The use of ebooks, landing pages, and other tools can get your website more and more traffic.
Finally, the most important – do thorough research of the keywords that are driving high volumes of monthly searches. Use those keywords on your pages so that search engines would give matching results when users want specific results.

4. Market your content
Content marketing is a great way of acquisition for your marketing strategy. Create original content comprising of blog posts, newsletters, and videos. This would require brainstorming from your team as well as the expertise of guest posts now and then. The next step is to promote this content through subscriptions and maintaining sustainable relations with your audience.

5. Make use of product reviews
Buyer ratings and reviews on your products encourage other prospects to become your customers. Since yours is an eCommerce store, you can't gain the trust of customers by reaching out to them and presenting the product. You need to have plenty of reviews about your product and even more ratings since they are time-saving.
To make the best use of product reviews persuade customers to tell you how satisfied they are. Little incentives like minimal future discounts may act as a nice push.

6. Have great public relations
Under PR come the responsibilities of creating and maintain a great public image and promoting brand awareness. The first step in improving your PR marketing strategy is to observe what is being said about your brand. Social hearing tools can be an aid here. Next, you should prioritize getting more media coverage. You can either do something newsworthy or pitching about your brand to news outlets yourself.
7. Do the email marketing rightly
By asking your customers to opt for your newsletters, updates, etc., from your homepage or other popular pages of your eCommerce website, you can create an email list. To these emails, you market your products by retargeting them. The way is to create a large mailing list. The next step would be to segment this list based on different actions being taken by different recipients. A smart way of email marketing is creating email funnels, i.e. a sequence of emails. You initiate by sending newsletters mentioning your products, then blog posts that highlight the need for these, and then finally some best-selling products.

8. Make collaborations with other brands
Having partnerships and collaborations with other brands makes you appear trustworthy. Build collaborations, and then highlight these companies on your homepage. This will give you the first impression of being a reputed business. Don't just stop at one or two partners. You will build a higher reputation and trustworthiness with a large number of partners so you showcase them all.

9. Make use of pay-per-click advertising
PPC advertising is the use of a bidding mechanism to place your ads on search engines, other websites, etc. You will have to pay only when the user takes action by clicking on these ads. This is a sure-shot way of knowing that you are paying for only that portion of marketing that is driving some leads.

10. Know your platform for social media marketing
Social Media Marketing is one of the most powerful tools to build connections and engagements with your customers. But are you going to market your beauty products on Reddit? Or planning for a B2B service on Instagram? That is why we say, that you should first know where your potential customers are.
Get hold of that platform by establishing a social voice and also your brand image. You can later continue on other feasible platforms by cross-sharing.

11. Use tactical social media marketing
A strategy can be achieved only by employing foolproof tactics. One of these is sharing content generated by users. When your customers share content about your business, share it through your channel. Not only this helps in creating customer loyalty but also producing more content with less workload.
Take a look at the demographics of your audience and produce content according to their tastes. You can help yourself by creating a schedule of what to post and when to post. Such strategically handling of your social media will lead to a huge conversion into sales.
12. Get influencers to do your job
Influencers are people on social media with a large and loyal following. They create content that gets viral in a few hours. When these influencers talk about your eCommerce business, it will get heard and believed in by a lot of people. However, the key here is to not just choose any person with over 5000 followers and sign up a contract. Take an in-depth look at who their followers and fans are, and then market your products with them.
Influencer marketing is better done when you are being tagged by a fan page rather than an individual. First, they have an audience that is interested in a particular niche. Second, they also produce more conversions.

13. Empty carts can be converted
Get back to your eCommerce store and analyze what's happening there. Are the carts of your customers remaining empty? Don't disappoint. Most of these would be the ones who stumbled upon your site, took a look or few, and left after some window shopping. To convert them into sales, tell them that their empty carts are being noticed. You can achieve this by writing a creatively assertive or humorous page copy for the empty cart.
Showcase some of the related and best selling products. Finally, add the proof of your credibility through customer reviews.

14. Wishlists call for your action
The most probable cause of a customer adding a product into her wishlist and not buying it right away is that she thinks its pricey for her. Do not ignore the wishlists. Set a strategy of providing some discounts on the items in the wishlist within a few days of them getting added.
Moreover, if there are forgotten items in the wishlists, send reminders about them with appropriate incentives.

15. Keep recommending products
Whether there are abandoned cart items or completed sales. You should always make sure that the customers are being provided with recommendations on what they were looking for or what they have just bought.
The actionable ways through this include adding a recommendation section within your emails after abandoned carts. Follow this with the usual recommending of top-selling products and attaching customer reviews.
What you should always keep in mind is that no rule of the book can beat out of the box thinking. These marketing strategic steps and ideas would sure give you a direction to take forward your eCommerce business. But to reach the summit and move ahead of your competitors, you will have to devise plans with these strategies that will resonate with your particular brand image.
---
FAQ
SEO refers to optimizing your website to rank up on the results of a search engine after a search query. On the other hand, SMO refers to optimizing your website so that your webpage is sharable on different social media platforms.
The best way to create more appealing social media content is by using high-resolution images. They capture their attention instantly. Next, make sure your feed follows a pattern. The more organized your feed appears, the more followers you will get. Finally, make sure you are using a lot of video content. Users of social media consume video content more easily and rigorously these days.
Yes, there are many. These risks relate to integrity, confidentiality, and availability. Make sure you develop a marketing strategy that ensures safe transactions. Also, include encryption methods to protect your website from hackers.
Grow as large as you want. You can add endless products to your catalog and have all the customer database you can imagine without any limits.
To build transparency and credibility, it is very important. Devise strategic policies regarding terms and conditions of return to make sure you are not exploited. But do allow customers to return your products.