What are the best SEO Strategy for Business?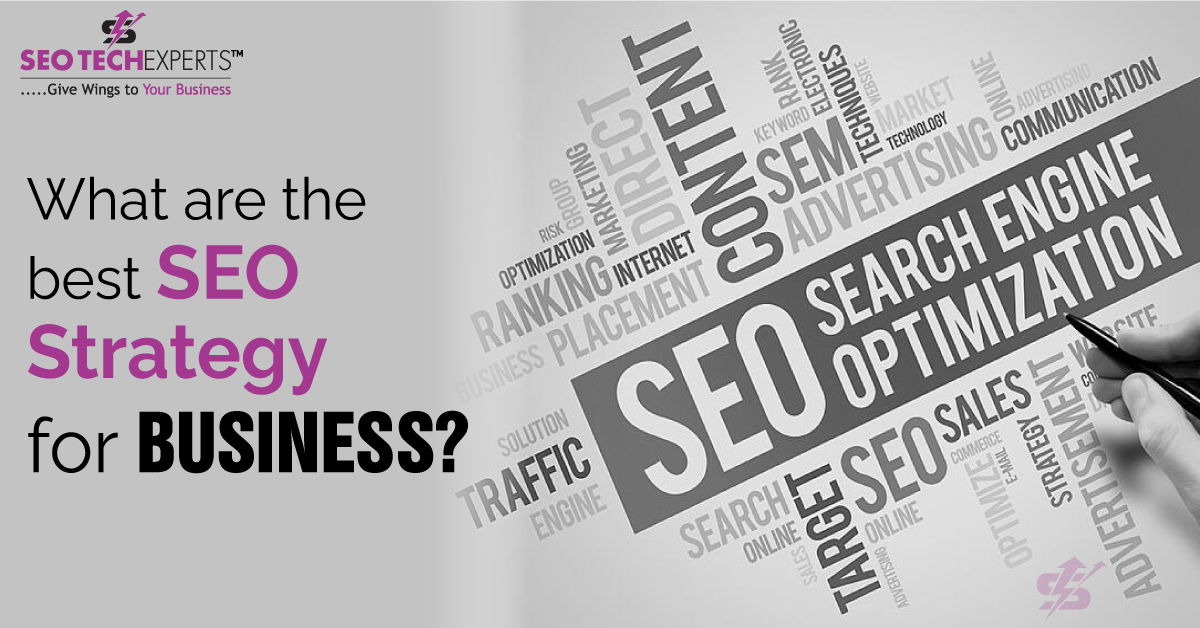 Businesses need SEO. Try these simple strategies to increase the number of people who visit your website. SEO for business is a cost-effective solution to increase the customer reach that matters the most.
It's worthless to spend time and money creating a stunning website if your clients can't locate it. But do you know the ways that make your website stand out in the infinite sea of online content?
When people search on Google, Bing, or Yahoo, search engine optimization is how you assist them locate your website. You will attract more traffic to your page and earn more business if you build your website correctly and optimize your keywords.
The Steps To Improve Your Search Engine Rankings for your business
Selection Of Relevant Keywords

Consider the user-intended terms that your target customer is likely to use to find your products or services on the internet. Are your consumers more likely to use a professional word like water purifier or a slang phrase like RO when searching for products and services?

Then go to Google AdWords and make a list of the top 20 to 50 keywords. If you haven't done so, you may pick the usual terms that are commonly used in web searches. You can also use Ahrefs to expand your keyword search.

Use your target keywords on every page of your website; it helps to rank higher because of high search intent.

You must include keywords in the URL, which is the address that appears in the browser for each of your website pages.

Include focus keywords in your titles and metadata descriptions, as well as the brief text that tells search engines what your content is all about.

Concentrate On Your Business Services

Remember that you are up against other businesses for online attention from potential clients. Look for words that connect to your market competitors, such as your unique offerings or geographic location, to be above them in the web searches for the particular industry.

Keywords purchased as part of a pay-per-click campaign, in which an online AD for your brand shows up above or below the free search results, indicate that you have to face competition. Every time your PPC link will be clicked, you have to pay for your search engine company.

If you don't have a lot of money to do so, you will have to concentrate on your focus keyword. Before that, you need to know how SEO works for business.

Avoid Keyword Stuffing On Your Business Website

Make pages intended for users, not for search engines, as per Google's webmaster guidelines.

If you simply sprinkle keywords all-around your material, it may be annoying to readers, so don't go overboard.

Making the writing clear, concise, and easy to read should be your top goals.

Create More Links To Your Business Website

The more sites that connect to your website, the higher search engine rankings you will get. Request other website owners to provide a backlinks to your website. In exchange for a link to your site, you also provide a link to theirs.

Concentrate on the link quality, and don't forget to check for the domain authority and spam scores. A single connection from a high authority website will be more beneficial than a dozen links from low authority websites.

Create High Quality Content for Business

The search engine is intended to assist users in finding answers to their queries. So, putting a great quality content is the greatest way to acquire a lot of traffic. The article must have proper headings, subheadings, infographics, and videos that give your readers useful information

Making frequent updates is the proven way to keep your content updated. A smart content strategy will also help you to establish yourself as a thought leader in the industry.

Use Social Media for Business

Use social media platforms to promote your content, as social media proves an excellent helping hand in your SEO campaign. Users frequently use Facebook to look for companies and items, they want to buy. In this way, when consumers search for your product, your social media profile will appear in the search results.

Make Your Business Website Easy To Navigate

Having a simple, easy-to-use website makes it visible to visitors who you are and what you have to offer. To make it readable, using more headings with your keywords makes it easy for search engines to rank you better.

SEO considers site speed as you don't want to irritate your visitors by having a slow website. Finally, ensure that your website is mobile-friendly, as websites that are difficult to view on a Smartphone may be penalized by search engines.

Track Your Business Website

Some free and low-cost tools like Moz, SpyFu.com, SEMRush.com, Ahrefs, and Google Analytics will give you more relevant information about your visitors, including how they found your site, their geographic location, and how long they spent on a particular page. Evaluate and analyze your data to improve your SEO performance.

Be Patient with your Business

Keep an eye on progress from the beginning, but don't expect an immediate outcome. Moving significantly higher in the SERPs usually takes a few months.

Also, keep in mind that SEO is always growing. What are effective today may not be effective two or three years later. Explore SEO benefits for small business, and hire the bestSEO Company in Gurgaon.

Aim High for Successful Business

The majority of users will never go beyond the first page of search results. Appearing on the one to two pages of search results is an excellent position for any business owner. Almost no one will view the pages beyond the top one or two. So raise your sights to be at the top!
Taking Everything Into Account
Many brands and business don't know why SEO is important for business and what its impacts are. The ultimate goal of SEO practices is to build a strong, clean, and user-friendly website that can easily appear in organic search results.
Improving the user experience is the key focus for every business owner. Providing an optimal user experience drives more organic search and online visibility.
To know more about SEO Strategy: visit Best SEO Strategy or Call @09871280005