10 Steps To Increase B2B Sales With Digital Marketing In 2020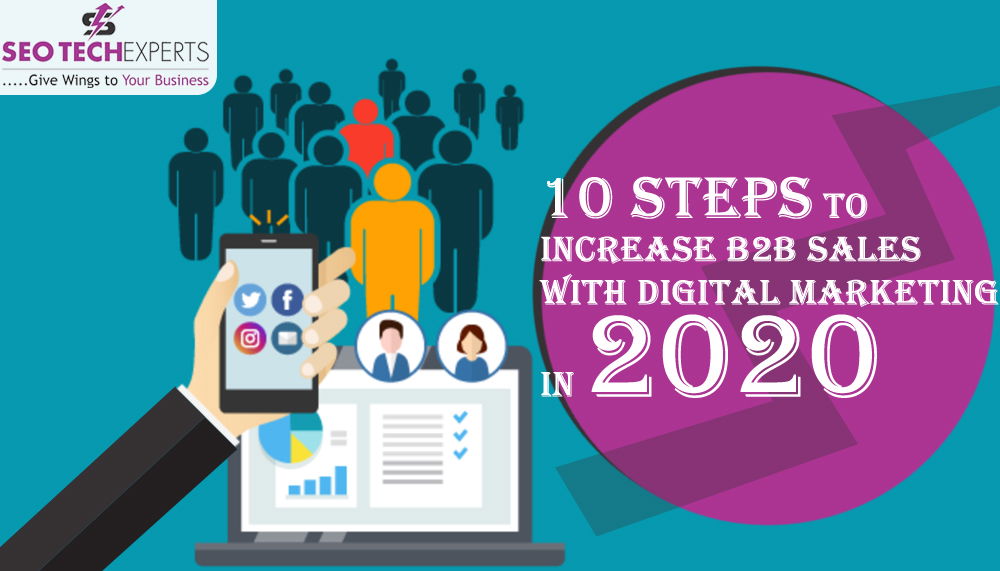 The world is changing at a higher pace since digital marketing has taken over. Those businesses still act and strategies like it are the 1900s are suffering as their sales and revenue are falling sharply. Today, it is the era of digital trends, operations, technologies, and marketing. Therefore, it has become essential that all businesses take digital marketing seriously and include it in their marketing strategy.
It is found that in recent times, all those businesses which are welcoming the digital change. And, re-designing their campaign by digital requirements and customers are seeing a significant rise in their revenues.
But, making B2B sales more effective and increase client retention, it is crucial to create a better campaign. Some of the 'must include' factors and strategies in a B2B Digital Marketing campaign are listed below.
1. Better Website Experience For Users
The website is always the first door that any customer crosses; even a B2B customer does. Therefore, the business must have a very clear and visitor-friendly website. Websites should have a good user-friendly interface and design so that a B2B customer can get all the needed information about the business, products, and services that are offered.
Make the website mobile optimized. Why? Because more than half of the customers tend to visit the business website through their mobile devices. Therefore, make the websites more attractive and easy to use through any device.

2. Search Engine Optimization
When it comes to bringing in more leads for a website and business, the first thing that counts is ranking higher in the search engines. Every day, the search engines are being made more and more searcher friendly. And the businesses need to up their game to get into the searches.
To make the website more SEO friendly, there are several things that one need to work on like:
Keyword optimization
Building the site is a user-friendly way
Make the site mobile friendly
Increase the page loading speed
Putting up high-quality content
3. Automating the Marketing Process and Operations
Today when the world is running fast, it is very crucial to automate every process in business and cut short on time consumption. This is the reason why businesses need to work on their marketing automation techniques to increase their B2B sales.
Employing automation software, businesses can collect and nurture the lead information and their progress in the sales cycle. This includes collecting emails of the leads, personalize letters and messages and track customer engagement, etc.
4. Using Automated Email Marketing Techniques
If one wants to build a relationship with their B2B customers and also have a proper conversation with their leads, they should opt for email marketing. Using email marketing also budget-friendly, as one will not have to invest a lot in it and also get higher returns if executed properly.
In Email Marketing, the data is measurable and thus can be tweaked when required. One can use dedicated landing pages for their leads to an increase in the overall two-way dialogue of the business and also reduce wastage of time.
Also, businesses can use automation in email marketing to boost lead engagement. Keeping automation in place means one will not miss replying to the leads, and can also use an automated reply system to keep the dialogue open.

5. Make the Content Game Stronger
Content is today's; the digital world is very important. Businesses need to up their game in developing fresh and new content that is more reachable and informative for the leads. Writing niche blogs, posting reviews, and information on the products, making attractive infographics, etc. are some of the ways one can engage the customers.
Also, one mustn't restrict themselves to only one form of content. There are several ways one can reach their customers and one should shy away from them. Make videos, host webinars, use vlogging as some of the ways to make the content more enriching and fun.
6. Make Use of Affiliate Marketing
Some may say that in businesses to business sales, affiliate marketing does not work well. But that is not true. One can use various industry-related niche brands as their affiliate marketing channels. Having similar industry interests and profit-sharing agenda can help in bringing in more leads through this mutual relationship.
Affiliate marketing also leads to referrals and these referrals can be turned into successful leads. One will be amazed at how word of mouth can be an effective tool in increasing sales.
7. Leverage Social Media Marketing
Social media platforms these days pay a very elemental role in B2B sales. From Facebook to Instagram to Twitter, all these platforms can play a major role in bringing in more leads and also in projecting the brand in a more differentiated way. One should pick the right platform's and should create better campaigns and network, analyze the competitors, and generate prospective leads.
It is not only great for connecting with leads, but also for generating new leads. One can spend a little fee to boost the social media ads, which will bring in more leads from the required demographics.
8. PPC Ad Campaigns and Paid Ads
Pay Per Click ads is another of the very crucial lead generating method. Using PPC campaigns, businesses can bring in more leads through various platforms. These ads can on various websites, search engines, social media channels, etc.
These ads help in increasing the website traffic and eventually helps in converting the lead to sales. PPC Campaigns can be created to track lead generations, increasing sales, increase traffic of the website, etc.
9. Better Lead Generation Strategies
One of the major things that any sales campaign stands on finding the right leads and that too more in number. One can use lead generation services to get a lot of industry-relevant leads, which can be converted to sales. However, one should be careful before using lead services and databases.
Other than this, there are many leads generating ad campaigns as well, which allows the business to collect the email address of the leads. One can also use free content as lead magnets, which will be helpful to website visitors. This helps in having in relation building and thus will have more prospects for turning them into leads. One can use various platforms, like Twitter to reach out to a larger pool of prospective leads.
10. Open Communication with the Leads
Last but not the least, having an open conversation and dialogue with the leads can boost B2B sales impressively. Be part of LinkedIn and Facebook groups, hold live chats with leads, have question and answer sessions with the leads and prospective leads, etc.
Twitter and Quora also play a major role in communicating in real-time with the leads. And, if happy with answers and queries, these leads can change into sales effectively.
Final Words
All these ten ways are simply some tips and tricks that when well combined, can give rise to a better digital marketing campaign. B2B sales are all about approaching business leads and having a better relationship with them until they turn into a customer. But the entire process can be made more efficient and fast with the help of various strategies and techniques.