SEO Tech Experts have been featured in Zee News as "Best Performance Marketing Agency in Delhi/NCR"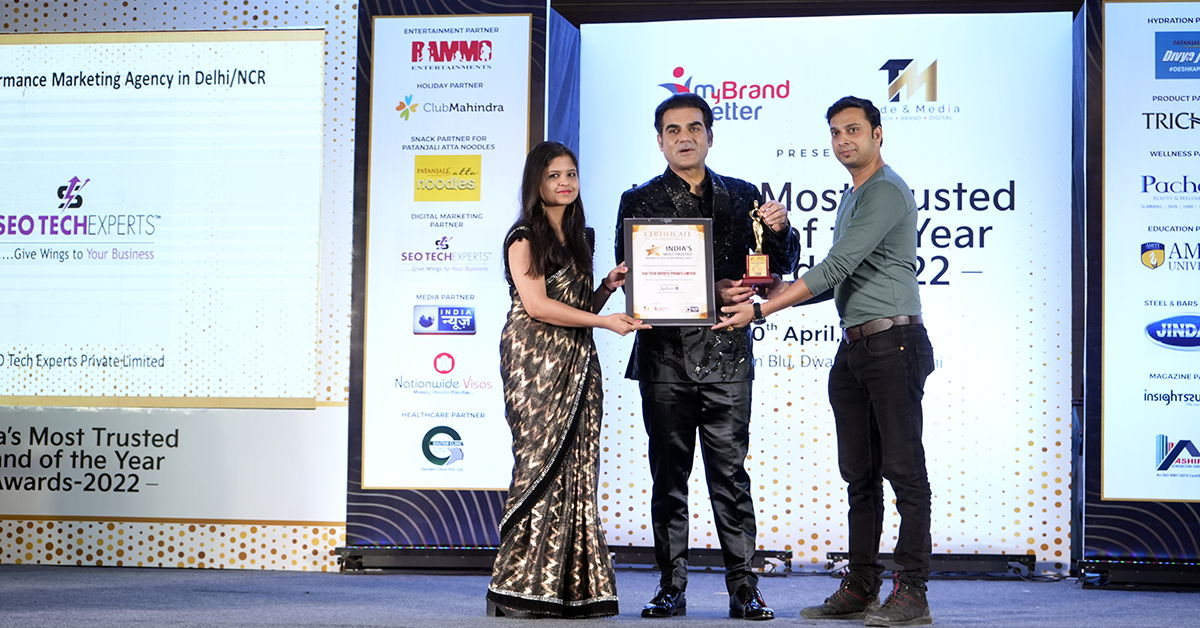 It is commonly said that if you have a vision, you will get a little closer to achieving your objective each year. SEO Tech Experts experienced one of these years in 2022!
When it comes to providing the most efficient services possible to their clientele, the professionals working for the company spare no effort. SEO Tech Experts has accomplished one of its most important goals to transform into a Private Limited company having its CIN- U72900HR2022PTC102194
This year, on the 30th of April 2022, the ceremony honoring winners of the prestigious Trade and Media 2022 awards took place at the Radisson Blu Hotel in New Delhi. SEO Tech Experts Private Limited was one of the companies that won a distinction there. In 2022, SEO Tech Experts Private Limited was recognized as the "Best Performance Marketing Agency in Delhi/NCR" by industry professionals. In recognition of the importance of the occasion, the renowned Bollywood actor and director Arbaaz Khan served as the Chief Guest. Despite competition from many digital marketing agencies, SEO Tech Experts Private Limited was able to win the award, which is big. This biggest achievement made the SEO Tech Experts featured in Zee news
SEO Tech Experts Private Limited Featured in Zee News
After reaching these two significant benchmarks, SEO Tech Experts is working toward the goal of growing its operations in other countries. In addition to catering to customers on a national scale, they will make an effort to attract customers from other countries. In addition to the efforts put forth by the agency, one must also give the entire credit for the success of their enthusiastic and dedicated team. This team works nonstop to ensure that the requirements of their customers are met.
The fact that SEO Tech Experts Private Limited, a company based in Gurgaon, displays an emblem that indicates the company's partnership with Google says a lot about the quality of the company's work. It provides a wide range of services including, but not limited to, search engine optimization (SEO), pay-per-click (PPC), website design, Social Media Optimization (SMO), digital marketing, Content Marketing, and Branding. The capacity of the team to maintain customer loyalty in the face of intense rivalry is the quality that most differentiates it from other groups. It acts as a one-stop-shop for the company, catering to its various digital requirements.
For full story visit ZEE News- https://zeenews.india.com/india/best-performance-marketing-agency-in-delhi/ncr-2462531.html