SEO Tech Experts Wins Award For 'The Most Promising Digital Marketing Agency in Delhi/NCR 2017'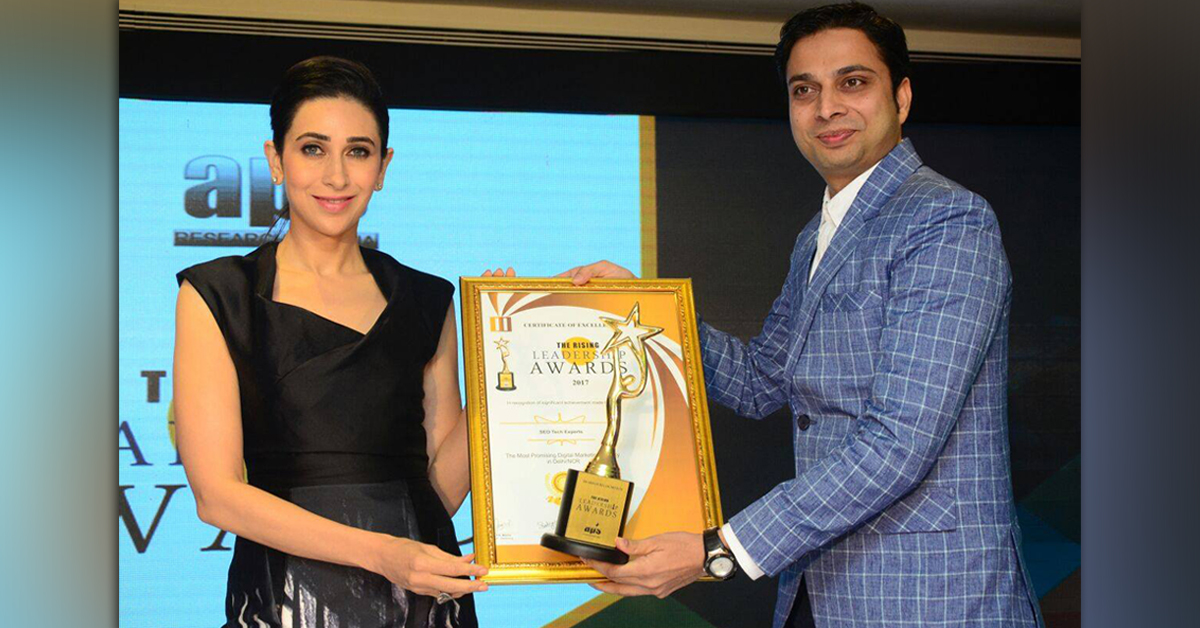 SEO Tech Experts is known as the Best Digital Marketing Agency in Delhi/NCR Since 2009 location serving across India with its valuable Web services.
In July 2017, SEO Tech Experts was named for the " Leading Brand " by 'The Rising Leadership Awards 2017'. likewise, SEO Tech Experts got the honor for the title " Most Promising Digital Marketing Agency In Delhi/NCR 2017' at Hard Rock Hotel, Goa on 21st July 2017. Mr. Sachin Gupta CEO of the organization has been honoured with the reputable award by the most popular famous Indian celebrity 'Ms. Karishma Kapoor ' in an occasion coordinated by APS Research and Media Company. The Rising Leadership is intended to motivate SME and business entrepreneurs in IT sector, Health Care Sector, Education Sector, Real Estate sector, E - commerce sector, Educational sector and more.
It's an Asia position awards platform aimed to honor largely motivated youth professionals and experts in their separate arena. Every start-up managing in the web domain seeks these kinds of acknowledgment and SEO Tech Experts are charmed to get this honor. Managing the constant increase with the competition is a difficult task. SEO Tech Experts feel glad to have such acknowledgment as 'The Most Promising Digital Marketing Agency in Delhi/NCR 2017'. Getting an honor with an Award is like a method of communication for conveying the relevant information to the existing and upcoming clients.SEO Tech Experts works on setting boundaries to offer complete web services at competitive prices without losing the quality guidelines.
Sachin Gupta added, "2017 has been an extraordinary year for me and I am extremely happy to get the honor in the interest of SEO Tech Experts and Team for their aggregate collective efforts. Our genuine achievement or goals depends upon the happy clients and their growth. In this growing digital world, We are anticipating the upcoming difficulties or challenges. we make every single effort to fulfil desired results to our respective clients
SEO Tech Experts which was started as an SEO company has now evolved in various web services like Branding, SMO, PPC, SEM, Web design, Web development, Performance marketing, ORM, more. Many E commerce companies and corporate sectors are welcoming Sachin Gupta to offer SEO Consultancy guidance. To create a mindset towards Digitalization across India, SEO Tech Experts has been arranging events, live project training session, digital workshops, Job vacancies Etc
Since its origin, SEO Tech Experts is essentially focusing on top-notch web services with high quality, Result oriented, eternal communication with the clients. Its reporting system and technical strategic activities make it different from other Digital marketing agencies in India.
About SEO Tech Experts
SEO Tech Experts is one of the prestigious Professional Digital Marketing Agencies in India offering unique SMO, PPC, SEO, ORM, Web designing, Branding, Consultancy services. The organization has reached its modules to deliver practical and live exposure towards PHP, HTML, Wordpress website designing and digital marketing promotions. SEO Tech Experts make progress towards happy clients and help to accomplish top ten rankings to drive traffic and maximum ROI.